Vibrant and delicious, this mixed brassica salad pairs the crunch of blanched cauliflower and broccoli with the creamy labneh and earthy flavours of pickled beet.
If you would like to try making your own labneh and/or pickling your own beets, try the recipes under 'Additional Information'.
Preparation
Boil cauliflower and broccoli
Place cauliflower in a pot of lightly salted water and bring to the boil.
Remove from hot water and immerse in iced water.
Place broccoli in a pot of lightly salted boiling water and remove after 10 seconds. Drain and place with cauliflower.
Once the cauliflower and broccoli is cold, drain.
Freekah preparation
Place freekeh and 5 cups of water in a pot and bring to the boil.
Reduce to a gentle simmer for 20 minutes or until cooked.
Drain and set aside.
Combining the elements
Heat 2 tablespoons oil in a pan and add the cauliflower and broccoli, cooking until lightly coloured and place in a bowl.
Heat 2 tablespoons oil in a pan and add freekeh and cook until lightly toasted.
Add baby spinach, stirring until lightly wilted then add to bowl with cauliflower and broccoli. Gently fold.
To assemble
Drain beetroot and place half the beetroot and half the sliced radish over a serving dish or plate.
Place half cauliflower/broccoli mixture over the top of the beetroot and radish.
Top with remaining radish and beetroot.
Layer remaining cauliflower/broccoli mixture on top.
Pipe labneh over and around the salad.
Sprinkle with salt flakes, parsley, mint and fennel.
To finish, drizzle with basamic vinegar/reduction.
Tips from the author
To make Labneh
Store bought labneh is also suitable but if you wish to make your own, here is the recipe. You'll need 400 g of natural yoghurt. Season the yoghurt with a pinch of salt and place into a strainer lined with an muslin cloth or new chux cloth. Place in refrigerator and leave to drain overnight. The next day, drain off liquid and place labneh in a disposable piping bag. This should be kept in refrigerator until ready to use.
To pickle the beetroot
Pre-purchased pickled beetroot is also acceptable, but here's the recipe if you want to try pickling your own. Place 2 small beetroots, thinly sliced, in a bowl. Bring 1 cup apple cider vinegar, 1/2 cup water, 1/2 tablespoon salt, and 1/2 tablespoon sugar to the boil and pour over the beetroot. Cover with cling film and set aside for at least 15 minutes (more if you wish) then drain.
Chef Glen Barratt leads an interactive salad workshop in Gatton, Australia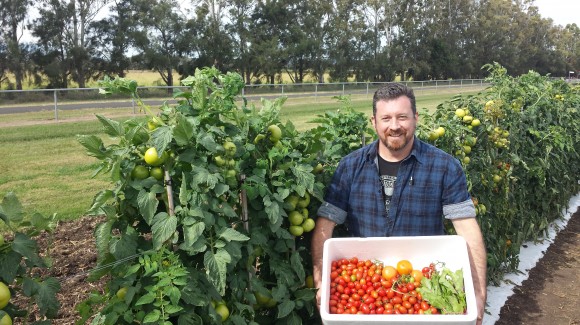 Local celebrity chef and Love My Salad ambassador Glen Barratt will flaunt his salad makings skills in a series of workshops and demonstrations held in the Love My Salad tent hosted by the Lockyer Valley Growers, running at 10am, 11am, 1pm and 2pm on Thursday 28th July.
As Chef of Brookfield's Wild Canary, Glen has a strong focus on local and seasonal produce and has created a trio of salads that showcase the best of what the Lockyer Valley has to offer.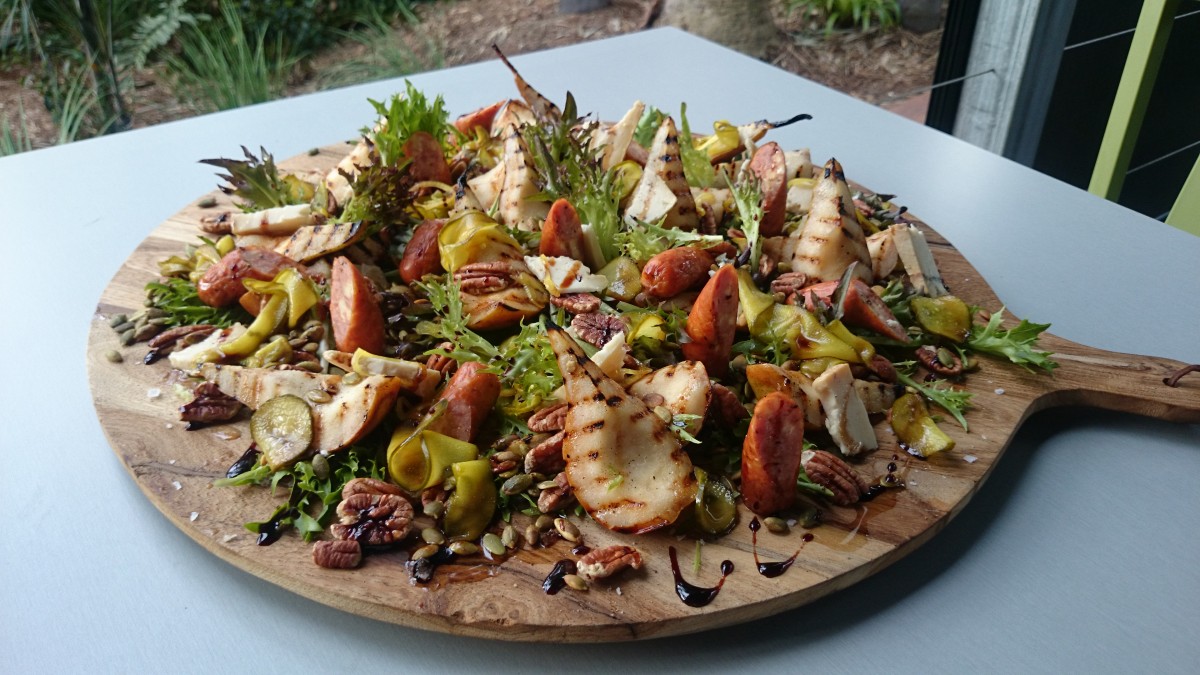 The day will be fun for the whole family with salad themed activities planned for kids including finding salad ingredients in a maze, guessing competitions and enjoying a salad.
President of the Lockyer Valley Growers, Anthony Staatz, said "Glen's focus on regional and seasonal fits really well with our intention of bringing the public closer to the farmers that are actually growing their food. What better way to do this than with a local chef using local produce? We want to show that make eating vegetables can be fun and enjoyable."
"Visitors can learn the essential skills of salad making such as how to match salads with the perfect dressing, incorporate exciting flavour combinations into salads, as well as tips on produce selection," Anthony said.
Entry is $20 for Adults with free entry for students. Attendees are encouraged to share their experiences at the event on social media using the hashtag #lovemysalad
Show your support for the Lockyer Valley Growers, wonderful fresh local produce and sensational salads by connecting with the event on Facebook.
For more information visit www.lockyervalleygrowers.com.au