The versatility of salad never ceases to amaze me. The combinations one can create are so many it's mind boggling! I get especially excited every time I find a new type of veggie to experiment with. In this case these show-stoppingly beautiful mini sweet peppers! Aren't they pretty? I combined them with multi-coloured cherry tomatoes and baby plum (aka grape) tomatoes. The base of this salad is a mix of tender baby rocket (arugula), spinach and lettuce leaves. Mixed greens always provide such freshness to a dish.
To dress the salad I chose a discreetly garlicky, creamy tahini sauce with lemon (did you know lemon complements the flavour of tomato?) and a sprinkling of dukkah. Dukkah (a mix of crushed nuts and spices) was another first for me, and I must say, it's a fantastic accompaniment to any dish, adding to its flavour and nutritional qualities. All these elements might seem a bit complicated but they are not! You can make the sauce and the dukkah beforehand – they are both super easy - and throw everything together within minutes to serve. This salad is completely plant-based and quite filling, so it's also perfect for anyone fasting for Greek Orthodox Lent. I hope you give it a try!
Preparation
To make the tahini sauce add all the ingredients to a small bowl and mix with a fork or spoon. It will look like it's separating in the beginning, but when you keep stirring it will become smooth. Set it aside.
To make the dukkah put the sesame seeds into a cold non-stick frying pan. Turn the heat to high and toast the seeds for a few minutes stirring very often. The time will depend on how strong your hotplate is but it shouldn't take more than 5-6 minutes. It could take much less so watch it continuously. As soon as the seeds become a golden colour and start to smell nice, they are ready. Remove from the pan straight away so they don't continue to cook.
Combine the toasted sesame seeds, hazelnuts and almonds in a small food processor. Add the spices and seasoning and pulse a few times just to roughly chop the nuts. You want to keep the mix crunchy for this recipe, not turn it into a powder. Transfer the dukkah to a small jar with a lid as you probably won't use it all in one go.
To assemble the salad, arrange the mixed leaves in a bowl and add the cherry tomatoes and mini peppers. Drizzle the tahini sauce over the top (you could use all of it or as much as you like) and sprinkle in about 3 tablespoons of dukkah. Toss well before serving.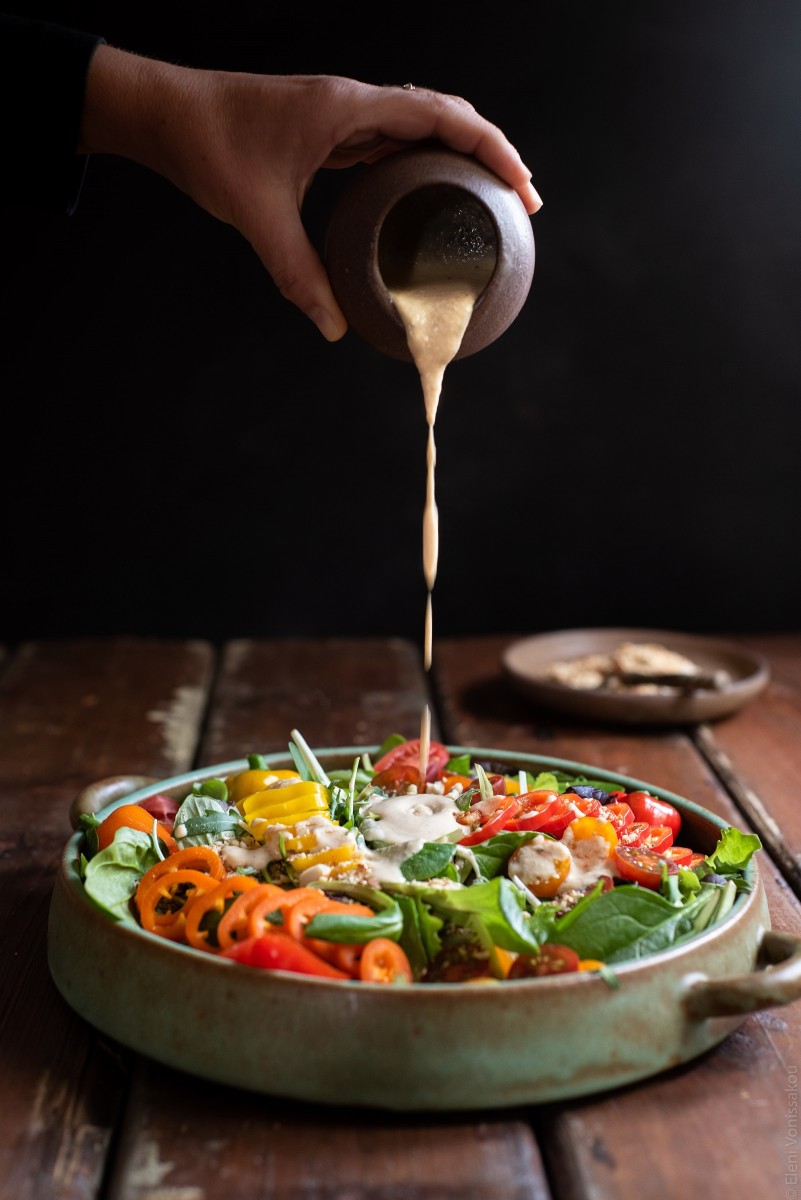 Tips from the author
Tip: You can toast the almonds (or use ready toasted) for the dukkah, I just prefer their taste when they are raw. You can also use other nuts if preferable, or even add some seeds such as pumpkin, sunflower, flax etc.