There is no soup more delicious than one made with fresh ingredients. For this savoury soup you need ripe, firm truss tomatoes.
Preparation
Peel off the skins of the truss tomatoes, cut them into parts and remove the seeds. Sauté the shredded shallot and finely cut garlic gently in the oil. Sprinkle 1 table spoon of sugar over it and fry for 1 minute on high heat. Add half a liter of water with the stock cube and allow to boil. Add the tomatoes and allow to cook gently for 10 minutes. Puree the soup with a hand blender into a smooth soup. Season with pepper. Divide the soup over 4 bowls and sprinkle the basil over it. Nice addition: French bread with garlic butter! Enjoy!
Tips from the author
Variation: Ginger is a good alternative for seasoning if you are looking for a bit of sweetness, or use tabasco for a spicier soup. If preferred, a can of tomato puree can be added or some meat balls. Tips: Peeling will be easier after putting the truss tomatoes into boiling water. Seeds can also be removed after pureeing by sieving the soup. Use some more tomatoes for a thicker soup. Fresh, ripe truss tomatoes are shiny, have a beautiful red colour and the crown looks freshly green. So, use Sunfresh tomatoes!
Related salads chosen by others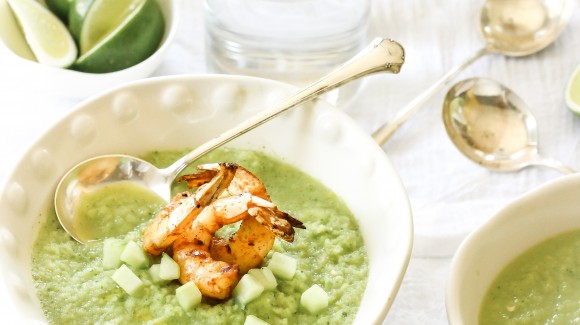 Zucchini soup with grilled shrimp
Average 3 of 5 stars
Cherry and vegetable gazpacho
Average 3 of 5 stars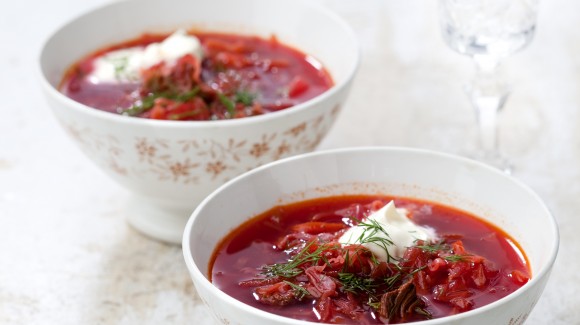 Red beetroot soup (Ukrainian borscht)
Average 3 of 5 stars