You see traybakes popping up all over the place, but what exactly are they? Quite simply, it is a dish completely prepared on a baking tray.
The win-win is in the convenience, the fact that the oven does the work, and the flavour. Roasting vegetables gives them extra flavour and texture. It also caramelizes the sugars from the vegetables, which accounts for that extra flavour kick. This easy traybake is full of super tasty vegetables and is also very easy to make.
Preparation
Preheat the oven to 220 degrees and line a baking tray with baking paper.

Dice the potatoes. Boil these for about 10 minutes and drain.
Cut the courgette into chunks.
Deseed the peppers and slice the flesh into strips. Cut the aubergine into chunks and quarter the red onions.
Mix a sizeable splash of oil with the Italian herbs and salt and pepper. Spread the vegetables, potatoes, and sausages over the baking tray, top with the oil. Place the tray in the oven and bake for 20-25 minutes until the vegetables and sausages are done.
Spread the pesto over the traybake and serve immediately. If desired, garnish with fresh basil.
Tips from the author
If you, like me, are fan of traybakes, we also have a tasty traybake with cauliflower and sweet potatoes and a delicious traybake with vegetables, gnocchi and pesto.
Related salads chosen by others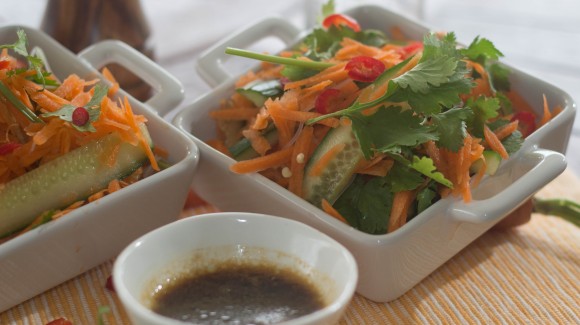 Spicy noodle salad with carrot, cucumber and coriander
Average 3 of 5 stars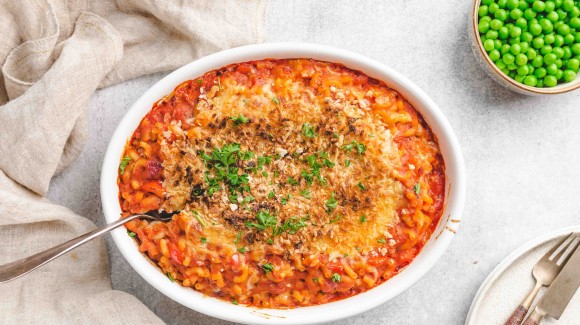 Simple Mac n Cheese with lots of Veggies
Average 3 of 5 stars
How to make cheesy vegetable lunchbox bread
Average 3 of 5 stars