Bruschetta is one of those joyful little dishes you can take in all sorts of directions. And they are perfect for when you want to spend less time in the kitchen and more with your guest. The toppings can be as simple or luxurious as you like. These antipasti-friendly toasts with a delicious topping of sweet pointed pepper and Parma just makes something that you think couldn't get any better, better.
Preparation
Remove the green stems and the seeds from the peppers and slice the flesh lengthways into strips.
Finely chop the garlic.
Heat 1 tablespoon of oil in a frying pan and add the pepper and the garlic. Cover and leave to soften for approx. 15 min., adding the wine after 10 min. Season to taste with salt and pepper.
In the meantime toast the slices of bread in a toaster or under the grill and then lightly drizzle over the rest of the oil.
Slice the ham lengthways into strips.
Arrange the pepper and the ham on the toast.
Sprinkle over the basil and the chili flakes.
Tips from the author
Cut the slices of toast in half (or into thirds if they are particularly big) and serve as an appetiser.
Related salads chosen by others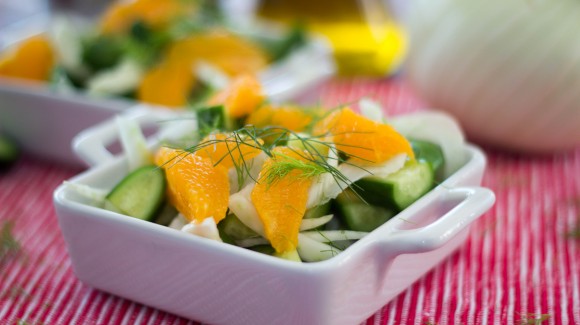 Fall in love with fennel salads
Average 3 of 5 stars
Breadfruit, capsicum and beetroot salad
Average 3 of 5 stars
Green papaya and cucumber salad
Average 3 of 5 stars