The name hasselback is not usually associated with broccoli. But this is a delicious way to serve broccoli and you will certainly make it more than once. The hasselback potato (thinly sliced potato roasted in the oven) originates from Scandinavian cuisine, where this potato dish was extremely popular in the 70s and 80s. In recent years, its popularity has risen again, and you can find many tasty recipes, including alternatives such as with carrot. It can also be made with broccoli. By gently pushing the florets apart, you can place dressing or cheese between them and roast in the oven.
The garlic and anchovies will make your kitchen smell like you're on holiday in a Mediterranean country and the mozzarella provides that delicious comfort food touch.
Preparation
Preheat the oven to 200 degrees.
Cut off the stem of the broccoli, making sure all the florets stay together.
Cook the broccoli in one piece until al dente (5-8 minutes).
Drain the broccoli and let cool slightly.
Pour the olive oil into a pan and fry the anchovy fillets and garlic. The anchovies eventually dissolve in the oil (small pieces that remain can be left in the oil). Remove the pan from the heat and stir the lemon zest into the oil.
Shake the broccoli again and put it in an oven dish, preferably one where you can place it so that it doesn't fall over.
Cut the mozzarella into thin slices.
Then gently push the broccoli florets apart and place the mozzarella slices in between.
Pour the anchovy oil over the broccoli and place in the oven for 15 minutes until the mozzarella has melted.
Related salads chosen by others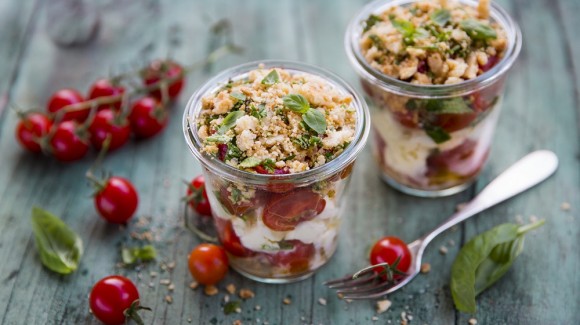 Savoury tomato crumble with mozzarella
Average 3 of 5 stars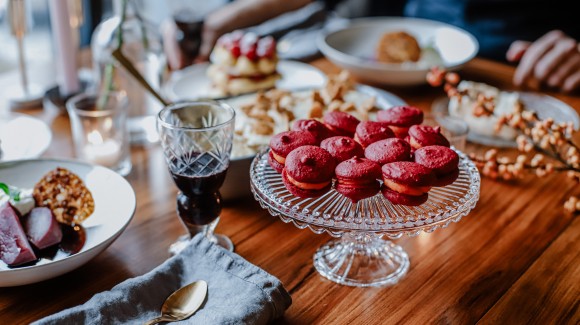 Sweet pepper chocolate macaron
Average 3 of 5 stars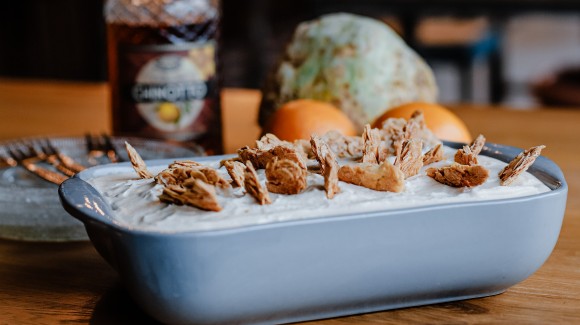 Celeriac and orange tiramisu
Average 3 of 5 stars