Our neighbour and son's friend, Teal, popped in for a visit last Sunday and presented me with this gorgeous golden nugget pumpkin that he had proudly grown and recommended for baking.
So whilst the boys were out on the river in the tinnie, amusing themselves and jumping off eight metre rocks, I started baking.
After their adventure, they came back to the kitchen with a big appetite. Teal's family had arrived for afternoon tea with a cake in hand and this glossy pumpkin was ready to serve between the 11 of us.
We were all pleasantly surprised with the moisture, flavours, and texture within this dish. I hope you enjoy it too.
Preparation
Follow the soaking/cooking instructions to prepare the barley (this takes about 55 minutes if starting from scratch).
Heat oil in a large saucepan. Sauté onions until soft and translucent.
Chop the eggplant into 1cm cubes. Add eggplant and cook until it is very soft and moist. Whilst the eggplant is cooking, pre-heat the oven to 220 degrees celsius.
Cut the top off the pumpkin in one piece, about 15 cm around the stem. Remove pumpkin top and set aside. Discard seeds and internal membrane.
Once the eggplant is thoroughly soft, remove from the heat. Add remaining ingredients and combine.
Fill the pumpkin and place the pumpkin 'lid' on top. Place in a heavy based baking tray with about 1.5cm water in the base.
Bake for 1 hour until the pumpkin flesh is tender when pierced with a skewer.
Tips from the author
Cooking time can be reduced to 30 minutes when barley is pre-soaked/cooked. Pearl barley can be pre-soaked/cooked and frozen in portion sizes ready for future use.
I use an icecream scoop to hull the pumpkin.
Related salads chosen by others
Pumpkin muffins with pecan nuts
Average 3 of 5 stars
Savoury pumpkin pie with red onion and feta cheese
Average 3 of 5 stars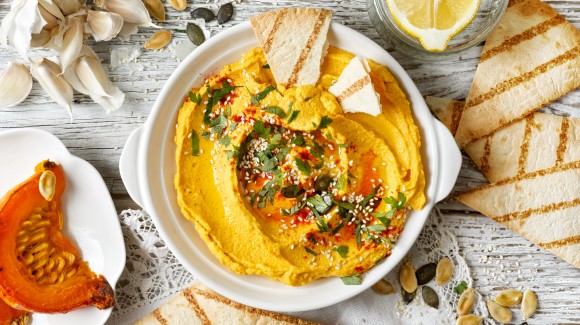 Pumpkin hummus
Average 3 of 5 stars