At Christmas we go crazy looking for original ideas to put on the table, but often something simple can be the solution. I have the perfect appetizer for you - avocados stuffed with quinoa and cherry tomatoes, and a prawn to finish the dish off.
Quinoa is increasingly popular due to it high nutritional value. It doesn't contain gluten and it suitable for vegans. The best thing is it's really easy to cook (similar to rice).
The mixture of avocado, quinoa and cherry tomatoes is very refreshing. In addition, I love to mix in cooked prawns, the result will not only taste spectacular, it will look stunning on the Christmas table.
Preparation
Rinse the quinoa under running water until the water runs clear.
Add the quinoa to a saucepan with hot water or vegetable stock (three parts of stock to one part quinoa). Cook over medium to low heat for 15 to 20 minutes until the seeds open. Remove from heat and set aside to cool.
Scoop the flesh from the avocados and reserve the shells.
Mash the flesh with a fork and mix in the chopped cherry tomatoes.
Season with salt and pepper and add olive oil and lemon. Mix well.
Fill the avocado shells and place a peeled shrimp on top (leaving the tail for decoration).
Sprinkle chopped parsley over the avocado with a drizzle of olive oil.

Tips from the author
If you want to make the recipe vegan, you can substitute the prawns for asparagus. To add more flavour to the quinoa, fry the quinoa in a little oil with garlic.
Serve two halves per person.
Related salads chosen by others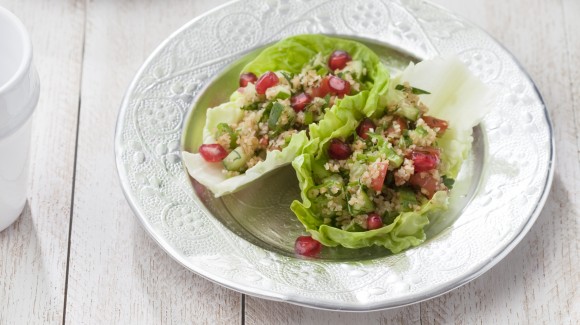 Crispy baby gem leaves filled with tabbouleh
Average 3 of 5 stars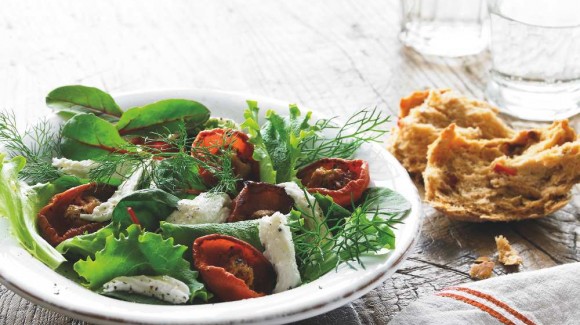 Fennel tops and sweet leaves with oven roasted tomatoes
Average 3 of 5 stars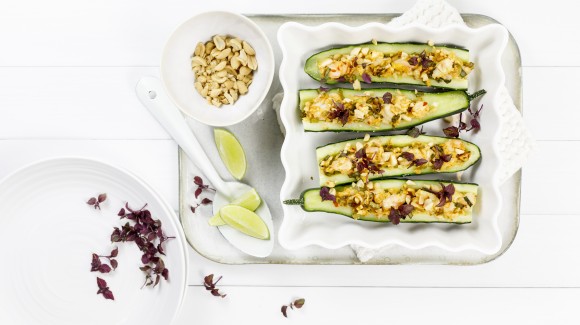 Baked cucumber with crunchy peanut topping
Average 3 of 5 stars