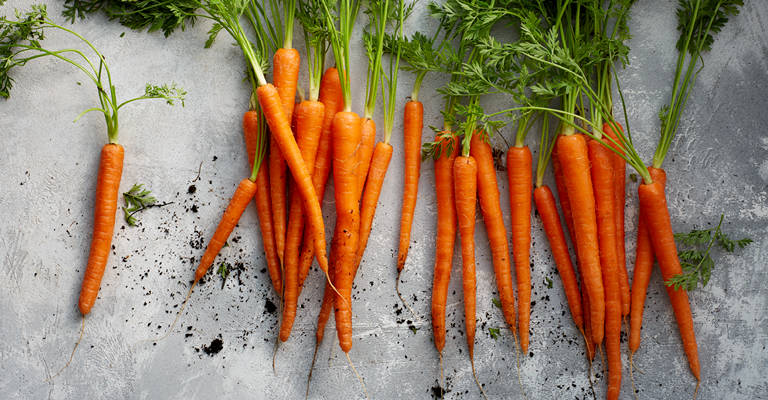 Pack the carrots!
If you're intrigued by the outback, love camping and enjoy damper, then you'll want to make sure you pack the versatile carrot in your rucksack. After travelling 9,000 kilometres through five states and five deserts in 20 days, I love this salad ingredient more than ever.
Strange but true! At the pinnacle of our adventure on the shores of Lake Gregory in WA, about 20 kilometres from the Canning Stock Route, my Uncle Mike (also known as 'Mighty Mouse') teaches me how to cook my first bush damper. So get rid of the oven! All you need are hot coals from the fireplace and a hole in the ground. Not to mention ingredients you can count on one hand.
"I use self-raising flour, a little bit of baking soda, a pinch of salt, powdered milk and because we need to eat our vegetables, we'll grate a carrot in there as well. Then I just add enough water to form a sticky dough," he said.
Your body absorbs plenty of vitamin A when you eat carrots, helping to protect your eye sight especially night vision. This comes in very handy if you find yourself trying to navigate your way around the campsite in the dark.
So deep in the Australian outback with an audience of dingos watching on, I dig a hole and put some coals in the bottom, sit the camp oven on top and put more coals around the edges and over the lid. The damper takes about 20 minutes to cook.
You know it's ready when you tap the bottom and it sounds hollow. Golden and crunchy on the outside; warm and soft on the inside – delicious!
Enjoy your salads! Louise.
Join Louise on a journey through the seasons with salad ingredients, old traditions and popular, exotic or unusual vegetables. From Paddock to Plate founder, author, food writer, radio journalist & yoga teacher.