How to turn a salad into Winter comfort food
If you live in a warm climate like I do, salads tend to be associated with light, delicate and refreshing flavours to match the heat. However when the winter chill hits, I'm looking for something a bit heartier that still has the freshness and colour of a salad. Building a winter salad bowl is the perfect solution.
A winter salad bowl is a great way to satisfy your cravings for comfort food. Best of all, it can be made however you like it by mixing and matching these four key elements: wholesome grains, legumes or starches, roasted seasonal vegetables, leafy greens and some tasty toppings.
Follow the steps to create a salad bowl that eases you into a state of winter chill, perfect for curling up on the couch with a glass of wine, a good book or some music in the background.
Start with a base ingredient
To fill you up and keep you warm, start with a grain like brown rice or quinoa and create a half/half mixture with some legumes like chickpeas or lentils. Alternatively, choose nourishing starches like sweet potato or spicy mashed potato. Serve slightly warm to keep things toasty.
Choose some leafy greens.
Spinach, endive, lettuce, rocket – whatever your green of choice, they all have one thing in common: they're packed with nutrients that your body could really do with in the winter time. Combine with pan fried broccoli, sweet peas or asparagus for some added crunch.
Select fresh seasonal produce to roast
Preheat the oven to 200 degrees Celsius, throw your vegetables of choice into a baking tray and roast with some olive oil and seasoning of choice (salt and pepper works just fine). Winter offers us a fantastic array of vegetables perfect for roasting, some suggestions are: carrot, turnip, cauliflower, eggplant and baby beets.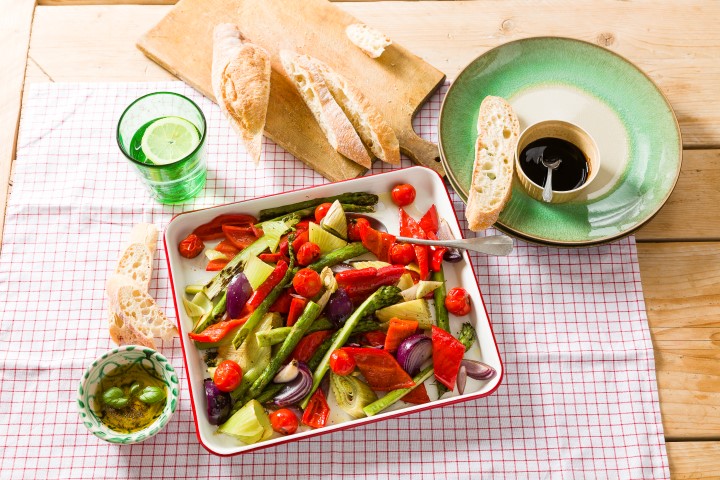 A simple recipe for preparing roast vegetables can be found here.

Add your toppings
It's important to have an element of indulgence in a winter salad; this is comfort food after all. My favourite toppings to use are warmed goats cheese, a pan fried nut and seed mixture or even a drizzle of honey over the salad. Add some fresh herbs if your basil or oregano plant has survived the winter.
Extra protein?
A soft boiled egg, sliced in half and placed on top of the salad will complete the meal nicely.
These salad bowls are worthy of some Instagram love so post your winter salad bowl creation to social media using the hash tag #lovemysaladbowl. We'll repost our favourites.