Are you looking to make vegetable-based appetisers? They can be really easy – and really tasty – as these sticky cauliflower florets prove. In fact, they're my new favourite snack. After dipping them in egg mixture and then Panko, you cook these cauliflower florets in the air fryer, which turns them wonderfully crispy and golden brown.
And while your cauliflower florets are cooking in the air fryer, you have time to make an irresistibly sticky sauce to coat them in. This results in the ultimate snack: soft on the inside, a satisfyingly crunchy bite on the outside and a delicious sweet & spicy flavour. These appetisers will leave everyone wanting more!
Preparation
Chop the cauliflower into bite-sized florets (not too small). Whisk the eggs in a bowl. In another bowl, mix together the Panko with the salt, pepper and spices.
First pass the cauliflower florets through the egg mixture, taking care to ensure they are entirely covered. Once the excess mixture has dripped off, pass them through the Panko, once again ensuring that they are fully covered. Then cook the cauliflower florets in the air fryer at 180 degrees for 15 minutes, dividing them into batches if necessary.
In the meantime, finely chop or crush the cloves of garlic. Peel and grate the ginger. Heat a dash of oil in a frying pan and sauté the onion and ginger. Then add the soy sauce, rice vinegar, sriracha, honey and ketchup. Bring to the boil, then reduce the heat and leave to simmer for 15 minutes. Next, mix the cornflour with 1 tbsp water and add to the pan. Cook the sauce for a little while longer to reduce it further.
Then transfer the sauce to a bowl and stir in the crispy cauliflower florets. Arrange the sticky cauliflower florets on a plate and garnish with the sesame seeds and chopped spring onion. Serve immediately.
Related salads chosen by others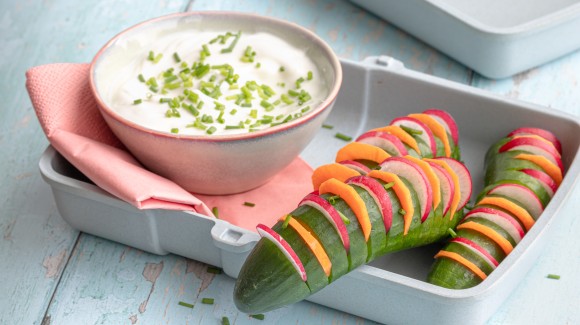 Rainbow cucumbers
Average 3 of 5 stars
Vegetable sushi with quinoa
Average 3 of 5 stars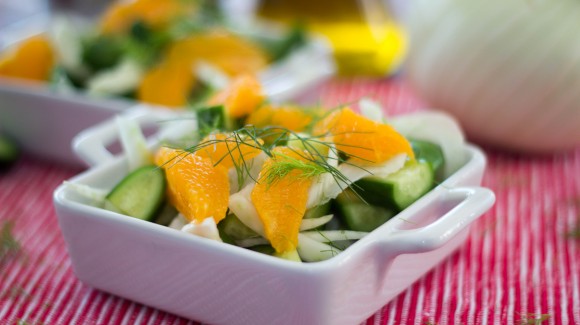 Fall in love with fennel salads
Average 3 of 5 stars