Do you ever serve pointed cabbage? Thanks to it's neutral taste, this veggie is incredibly versatile in the kitchen. With this pointed cabbage vegetable salad with satay sauce, we take you on a tour of the Orient. Don't be put off by the amount of ingredients, This dish is easer to make than you think! And if you're not a potato fan, replace them with rice and you have a completely different meal!
Preparation
Wash the baby potatoes carefully and quarter them. Trim the beans. Cook the beans together with the baby potatoes in a saucepan of water for 8 – 12 minutes. Drain and let stand for a while.
In the meantime, cut the pointed cabbage into small pieces. Remove the seeds from the bell pepper and cut the flesh into strips.
Chop the shallot. Remove the skin from the ginger and grate the ginger. Chop or crush the garlic.
Heat a little oil in a saucepan. Sauté the chopped shallot, garlic, and ginger. Then add the peanut butter, soy sauce, sambal, sweet soy sauce, and lemon juice. Stir well.
Finally , add the coconut milk – it looks like the sauce is going to curdle, but it's not! – and stir continuously. Taste and season with salt and pepper. Let it simmer until it thickens slightly and then turn off the heat.
Heat a wok or large fry pan with 1 -2 tablespoons of oil over high heat. Add the sliced pointed cabbage and the bell pepper. Fry for a bit, then add the potatoes, green beans, and a few spoonfuls of the peanut sauce. Heat until the pointed cabbage is soft.
In the meantime, heat the (chilli) oil in a fry pan and add the peanuts and honey. Fry for several minutes until the honey starts to bubble. Then pour the contents onto a sheet of baking paper and leave to harden. When hard, cut into pieces.
Serve the Pointed cabbage vegetable salad with satay sauce and garnish with the crispy peanut topping.
Related salads chosen by others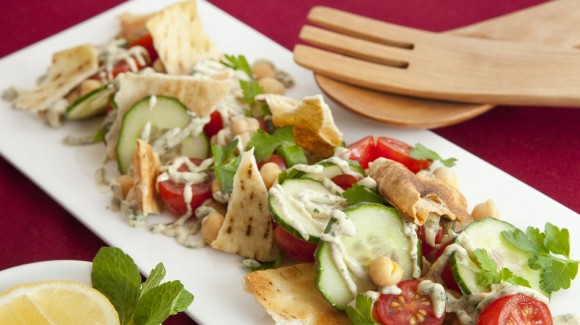 Fattoush salad with a tangy smoked eggplant dressing
Average 3 of 5 stars
Traditional Egyptian eggplant moussaka
Average 4 of 5 stars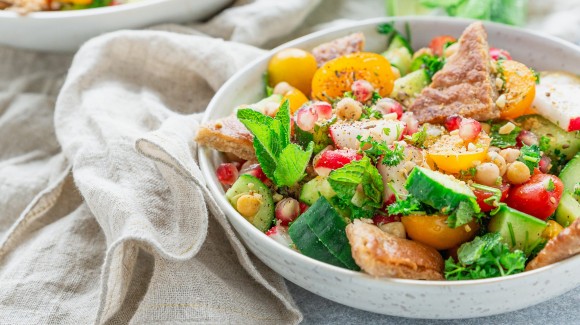 Fattoush Salad
Average 3 of 5 stars