In Scandinavia, they eat a lot of beetroot. In Denmark, this is often eaten on a smørrebrød with salmon or herring, sour cream, and dill. So tasty! Pickled beetroot is often found on the menu in Scandinavia. And it is very easy to make at home!
For this version, pickle the beets in raspberry vinegar for a slightly sweeter and fuller flavour. With the addition of rosemary and spicy peppercorns, this raspberry vinegar gives a twist to the familiar pickled beetroot. Delicious!
Preparation
Peel the beets and use a mandolin to slice as thinly as possible.
Put the slices in a preserving jar (mixed together) or in 2 smaller preserving jars (one for the red beets and one for the Chioggia beets). Insert the sprigs of rosemary and scatter the peppercorns on top.
Mix the raspberry vinegar with the water, sugar, and salt. Make sure the sugar and salt are dissolved before pouring the vinegar mixture over the beets. If necessary, top up the jar with water until all the vegetables are submerged.
Let cool with the lid loosely on and then close the lid. Place in the fridge. You can keep the pickle for about a week.
Pickled beetroot is delicious in a sandwich with smoked salmon and dill.
Tips from the author
For more pickle recipes, go to our overview page: Pickled Vegetables.
Related salads chosen by others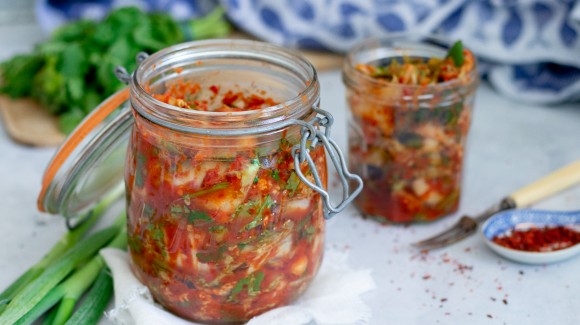 Homemade Kimchi
Average 3 of 5 stars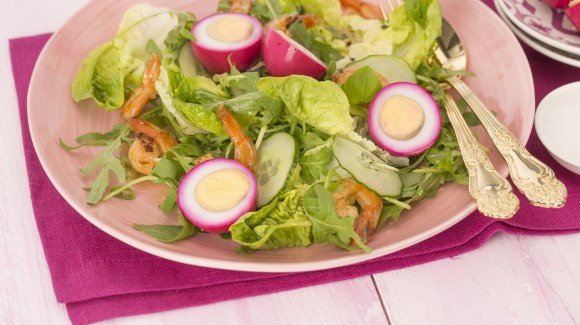 Fuchsia red beet pickled eggs
Average 3 of 5 stars
Vegan Sunday Roast with Romanesco, purple cauliflower pickles and fried onion gravy
Average 3 of 5 stars