Today I bring you one of my favourite salads. It's not technically a recipe of mine, but it's special because it's the salad I always order at one of my favourite restaurants in Malaga ("El Noviembre"). El Noviembre is a restaurant where you can design your own salads and dressings. You can choose from more than 20 ingredients (fruits, vegetables, nuts, etc.) to make your salad.
I like to ask for it with pear, crunchy fried onions, sundried tomatoes, mixed leaves and nuts. The original salad has caramelized goat cheese, but as I am lactose intolerant I use lactose-free gouda cheese in cubes. My favourite dressing for this salad is honey and mustard vinaigrette.
Since first tasting this combination, I like to use pears in my salads for a bit of sweetness. Have you ever tried it? I highly recommend it :)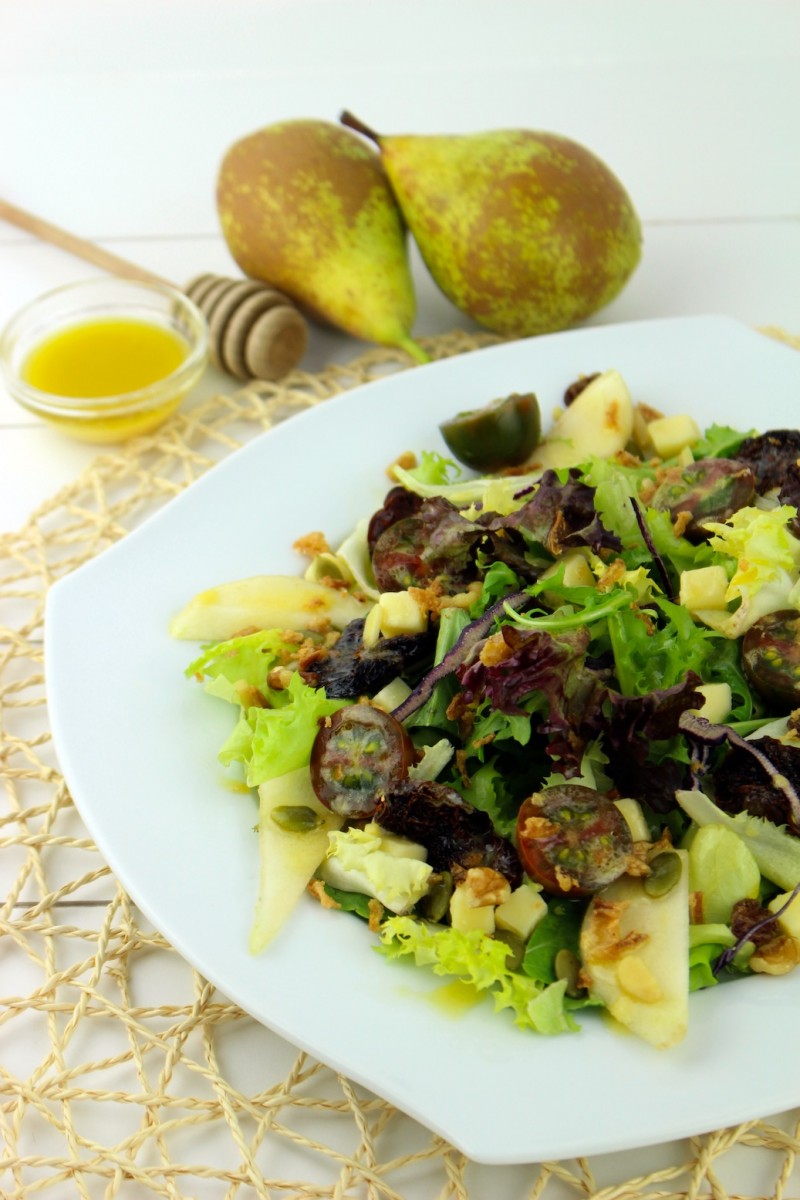 Preparation
1. Put the sundried tomatoes in a glass with hot water for about 20 minutes to re-hydrate them.
2. Peel the pear and cut into slices.
3. Wash and dry the lettuce leaves thoroughly.
4. Cut the cherry tomatoes in half.
5. Cut the cheese into cubes.
6. Mix the lettuce, sundried tomatoes, fresh tomato halves, pear slices, crunchy onions, mixed fruit and nuts, and diced cheese in a large salad bowl.
7. Prepare the vinaigrette by mixing the oil, vinegar, mustard, honey and salt. Emulsify, then dress the salad.
Related salads chosen by others
Dates, Fennel and Lettuce Salad
Average 3 of 5 stars
Green bean salad with green goddess dressing
Average 3 of 5 stars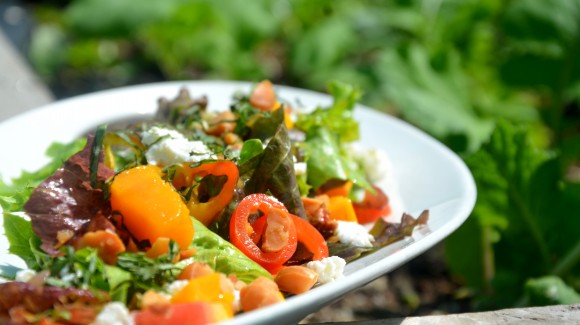 Summer mango and macadamia salad
Average 3 of 5 stars