This salad with grilled asparagus, eggplant and fennel features beautiful flavours, with creamy buffalo mozzarella and fresh parsley.
Preparation
Peel the eggplants and cut into even, thin slices, and cut the asparagus in half lengthwise. Grill the vegetables on both sides until grill marks appear. Allow to cool.
In a small bowl, vigorously mix the olive oil, vinegar, garlic, red pepper, and parsley, and season with salt and pepper to taste. Pour this mixture over the vegetables.
Cut the fennel bulb in half and remove the heart, then grate or cut into very thin slices and drizzle with the juice from the lemon.
Divide the fennel on the plates and arrange the grilled vegetables on top. Grate the mozzarella and sprinkle evenly over vegetables. Season with salt, pepper, and olive oil.
Tips from the author
Tips: The eggplant achieves nice complexity and depth of flavour if you remove the stem and calyx, cut in half, and roast at high heat for 15-25 minutes before slicing and grilling.
The white root end of the asparagus should be removed before cooking. Simply snap the end off and it will break at the point where the beautiful fresh green asparagus begins.
Related salads chosen by others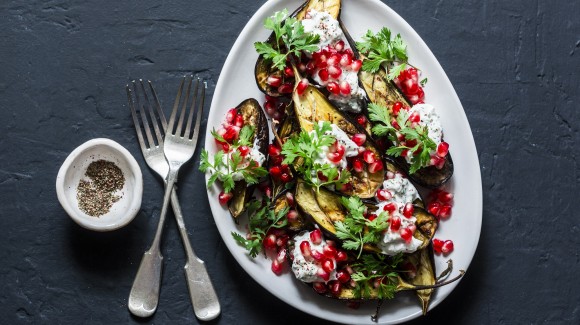 Grilled aubergine with pomegranate, mint and tahini lemon dressing
Average 3 of 5 stars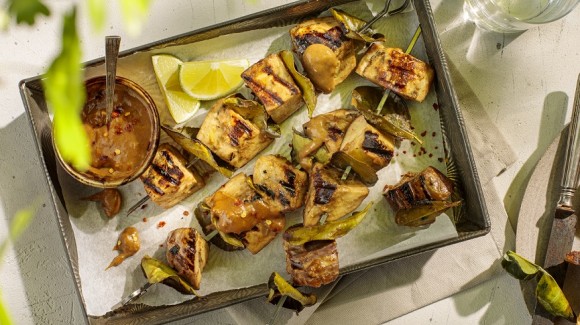 Aubergine satay
Average 3 of 5 stars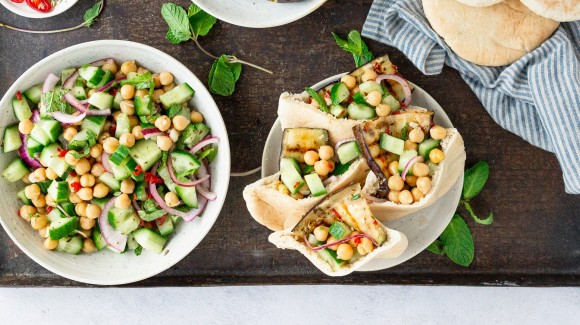 Veggie pitta sandwiches
Average 3 of 5 stars