Grilled aubergine stacks with mozzarella and tomato. This dish is guaranteed to steal the show! With a few ingredients and minimum effort, you can make a fantastic dish in no time. These little aubergine, tomato, sweet pepper and mozzarella stacks can be served as a starter. Alternatively, if you serve two per person and add a delicious Italian salad to go with them, they will also make an excellent main course. The slices of aubergine can easily be used as a meat substitute – so lots of lovely vegetables, in other words!
Preparation
Cut the aubergines into 12 1cm slices.
Sprinkle them lightly with salt and wrap them in kitchen paper or a tea towel. Leave them for 10 minutes to drain off the excess moisture. Wipe them dry.
Heat a good layer of olive oil in a pan and deep-fry the slices of aubergine for about six minutes until dark brown and soft. Turn them over occasionally. Drain on kitchen paper.
In the meantime, cut the tomatoes and mozzarella into four slices. Slice the pointed peppers into rings.
Make the stacks as follows: a slice of deep-fried aubergine, a slice of mozzarella, tomato, basil and a few rings of pointed pepper, drizzling some balsamic glaze in between each layer as you go. Repeat, ending with a slice of aubergine, then season the stack with salt and freshly ground black pepper.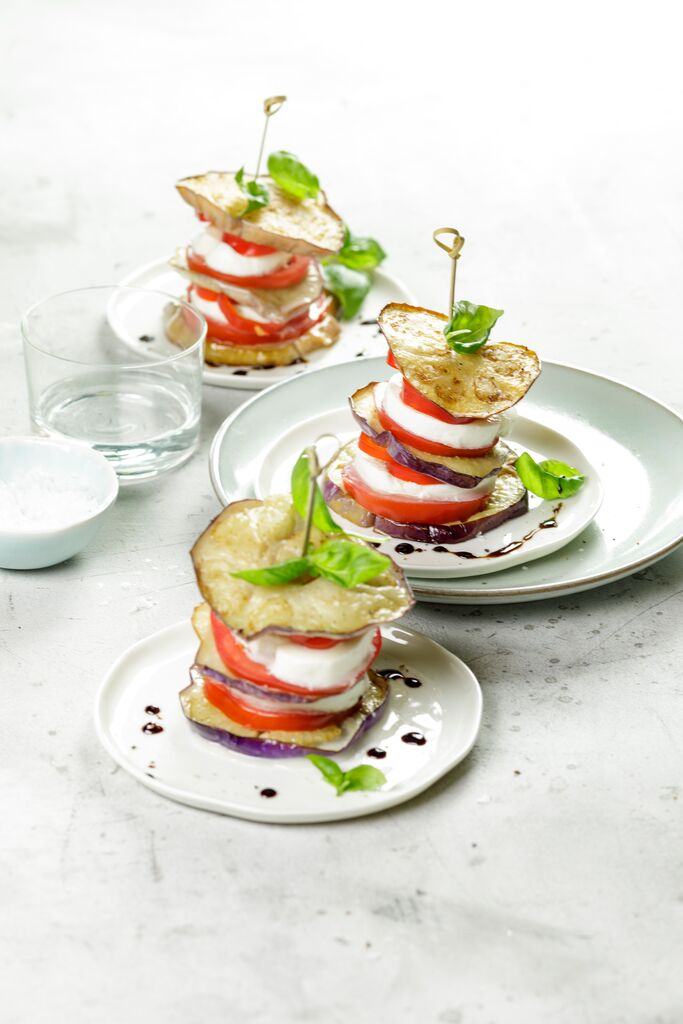 Tips from the author
Instead of deep-frying the aubergine slices, they can also be roasted.
The flesh of Pallada aubergines is whiter and firmer than that of conventional aubergines, which makes them ideal for these little stacks.
Related salads chosen by others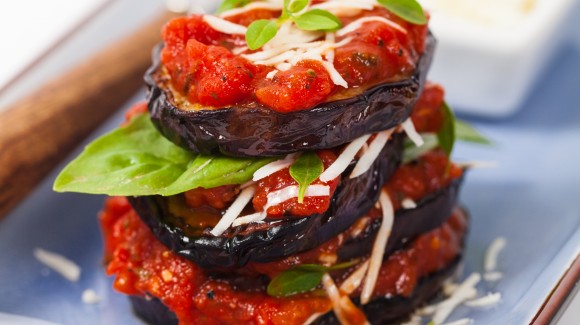 Eggplant turrets
Average 3 of 5 stars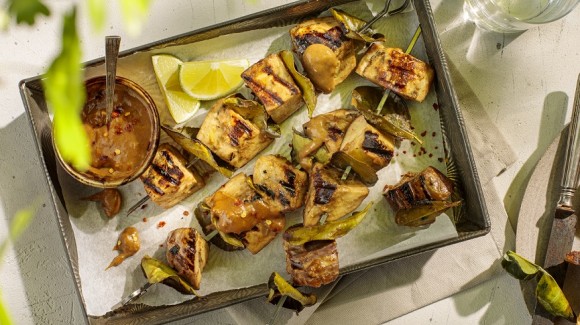 Aubergine satay
Average 3 of 5 stars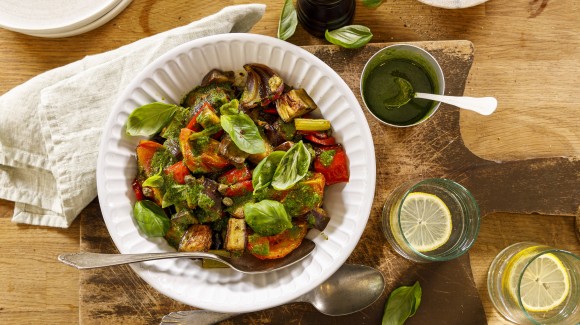 Marinated Sicilian caponata
Average 3 of 5 stars