If fall is your second favourite word and food is your first then this salad will sound like autumn music to your ears. Yes, indeed… salads don't have to end with summer. Autumn or winter are perfect to put a salad on your table. Combine some cold with some warmer ingredients to create the perfect comfort food fantasy.
The secret behind this salad? An explosion of flavours and textures unlike anything you have ever tasted before: the subtle smoky touch of the grilled cauliflower, the sweet and fresh taste of the orange and the salty finish of the halloumi cheese. All these flavours come together in gastronomic harmony thanks to the spicy dressing with cayenne pepper and za'atar. The sour-sweet taste of the pomegranate seeds is the final icing on the cake. Even the fiercest salad haters won't stand a chance resisting this delicious flavour fetsival.
To make this salad, I am using purple cauliflower. It is beautiful in all its glory and it adds a colourful contrast to your dish. Classic white cauliflower nevertheless will do too of course.
Preparation
Follow the directions on the package to cook the pearl couscous. Then drain.

Cut the cauliflower into florets and the halloumi into (not too large) slices. Cut the flesh of the oranges into pieces. Crush or finely chop the garlic clove.

Make a dressing: Mix the extra virgin olive oil in a bowl with the garlic, the orange juice, the honey, the za'atar and the cayenne pepper. Season the dressing with pepper and salt.

Heat your grill pan on high heat and fry the cauliflower florets until they are golden brown and firm to the bite. Grill the halloumi cheese slices.

Mix the cooked pearl couscous on a large plate with 2-3 teaspoons of dressing. Then spread the roasted cauliflower, the halloumi slices and the pieces of orange on top.

Garnish the lukewarm salad with pomegranate seeds and parsley and serve with the rest of the dressing.
Related salads chosen by others
Stuffed pointed pepper with pearl couscous and marinated halloumi
Average 3 of 5 stars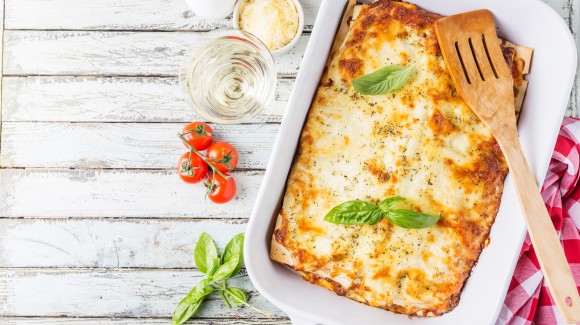 Vegetable lasagne
Average 3 of 5 stars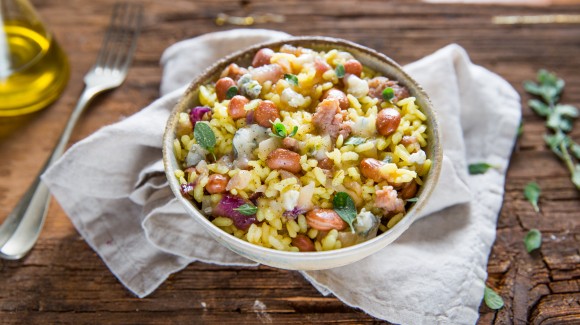 Rice salad with borlotti beans, gorgonzola and luganega sausage
Average 3 of 5 stars