Yes, I know, sometimes I can surprise you but even though I'm not a huge fan of Valentine's Day, occasionally I let myself be a little bit of a romantic. As I was telling a friend, I am more a lover of artichoke salads than a lover of Valentine's Day. :)
This month I have completely changed the presentation of my dishes to remind everyone that a simple and delicious salad can be the perfect added touch for a romantic dinner. It all depends on how we present it, and how motivated we are to find the love. For example, in my case, these fantastic artichoke hearts were love at first sight.
A simple and very quick recipe to prepare, with a very special presentation. Thus it gives us time to get even more dolled up before dinner. :)
Preparation
Rinse the artichoke hearts well and drain them thoroughly. If you are using canned artichokes, this helps eliminate any flavour from the preservatives.
Cut them in half and pan fry for a few minutes with hot chili oil, until you see them begin to brown. Remove from the heat and set aside.
Place the artichoke hearts in the centre of the plate, then surround with salad leaves and garnish with the baby rocket.
If you like, drizzle a bit of extra virgin olive oil, and sprinkle a little salt, but if I'm honest, since they have been cooked in chili oil, dressing is hardly necessary.
Tips from the author
This time I used cooked and canned artichokes; they are fantastic and you can find very good quality canned artichokes.
If you do not like that spicy touch, feel free to use extra virgin olive oil to cook the artichoke hearts.
You can serve the salad warm or cold, depending on how much time you have, and how you prefer your artichokes.
Related salads chosen by others
Spinach, mango & avocado salad with ginger dressing
Average 3 of 5 stars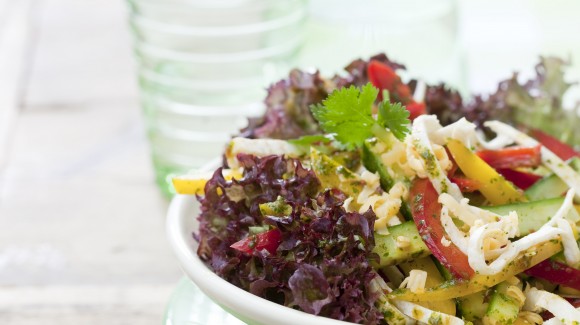 Italian Tomato and Mushroom Salad
Average 3 of 5 stars
Custard apple or 'sweetsop' salad
Average 3 of 5 stars