When I'm looking to create my next salad I often browse the boards on Pinterest for ideas and inspiration. After seeing so many examples of vegetable noodles on Pinterest I had to learn how to prepare this dish myself. So I went to the store, bought myself a julienne peeler and started to create my own version of this trendy and healthy alternative to pasta for dinner.
The result: courgette noodle salad that showcases some of my favourite complementary flavours. I found that courgette combined perfectly with homemade pesto and grilled tomatoes, sprinkled with fresh grated Parmesan cheese and roasted pine nuts. To add some extra texture to the dish I serve it with some with some crusty Italian bread for added crunch.
For my recipe I decided to serve the courgette noodles raw, however if you're looking for more warmth I lightly pan fry the noodles in olive oil. Heat in the pan for one to two minutes until warmed through and season with a touch of salt and pepper to really bring out the flavour of the zucchini and tomato.
Preparation
Preheat the oven to 200

°

C

.
Prepare your toppings by shaving the Parmesan cheese, and lightly toasting the pine nuts in a fry pan. Set aside until serving.
Prepare the pesto by pulsing the basil, garlic, cheese and almonds in a food processor. Add olive oil and lemon zest and process until smooth. Season with salt and pepper. For a stronger flavour, add garlic or Parmesan cheese to taste.
Prepare the tomatoes by placing them in a baking dish and drizzling with olive oil and a pinch of sea salt. Bake for 15 to 20 minutes.
Use the julienne peeler to make noodles out of the courgette. Leave the noodles in a strainer until serving.
To serve: divide the rocket among your servings, mix the pesto through the noodles and place even amounts on top of the rocket. Finish by topping the salad to taste with the grilled tomatoes, Parmesan cheese and roasted pine nuts. Season with salt and pepper.
Tips from the author
To prepare your own vegetable noodles, a.k.a. zoodles, you can use a good old julienne peeler. These days you can find special tools to make zoodles, often easier and more user friendly than a julienne peeler. Search via Google with these terms vegetable spiralizer.
Want more ideas for vegetable noodle salads? I collected all types of 'zoodle' recipes on Pinterest, have a look and pick your favourite: Love my veggie noodles.
Related salads chosen by others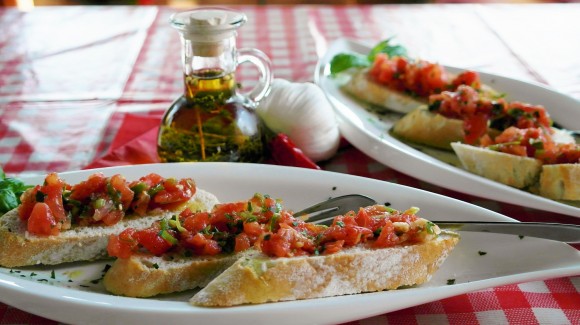 Classic Italian bruschetta with rocket and fresh tomatoes
Average 3 of 5 stars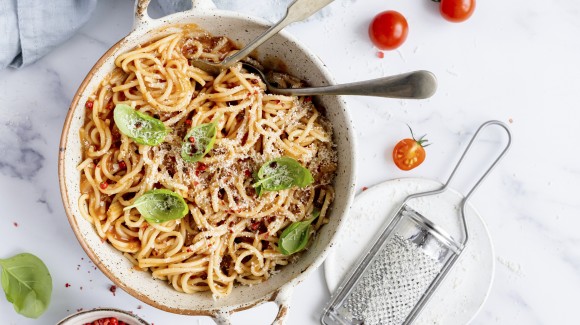 À la minute tomato pasta
Average 3 of 5 stars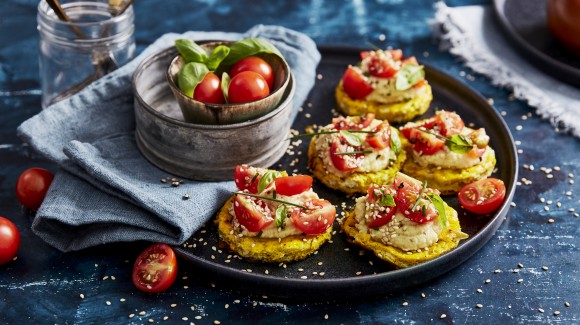 Omelettes (canapes) with hummus, cherry tomatoes and sesame
Average 3 of 5 stars