This dish provides the sense that you are in Morocco with the seasoning providing great depth of flavours, bringing out flavour of the heroes of the dish; pumpkin & cauliflower.
Preparation
The roasted vegetables: Cut all vegetables and place them into a roasting tray. Cover with Ras el hanout seasoning and drizzle with olive oil then combine well. Roast in 180 degrees oven for 25 minutes or until thoroughly cooked.
The salad: Whilst roasting the vegetables deseed the pomegranate and roughly cut the mint. In a serving bowl, combine roasted vegetables with pomegranate and mint. Add labne balls and serve.
Tips from the author
To make your own labne: Stir 2 tsp salt through 6 cups plain Greek-style yoghurt. Place the yoghurt into a drum sieve over a big bowl, or wrap it in muslin to drain. Leave to drain the whey or watery liquid in the fridge for 12 hours. Or if you want Labne balls, leave for 24 hours and roll into balls.
To make your own home made "Ras el hanout" (spice mix): Grind the following spice ingredients together with a mortar and pestle, or a food processor. You will need: 1 teaspoon black peppercorns; 1 teaspoon ground ginger; 1 teaspoon cumin seeds; 1 teaspoon coriander seeds; 1 teaspoon ground cinnamon; 1/4 teaspoon ground nutmeg; 1/4 teaspoon cardamom seeds; 1/4 teaspoon hot paprika; 4 whole cloves; 1/4 teaspoon ground turmeric; 1/4 teaspoon sea salt; and 1/4 teaspoon ground allspice.
This recipe created by Chef Peter Manifis for vegetables WA.
Related salads chosen by others
Fattoush salad with labna, walnut za'atar and buckwheat lavoush
Average 3 of 5 stars
Tabouli salad with Moroccan spiced lamb
Average 3 of 5 stars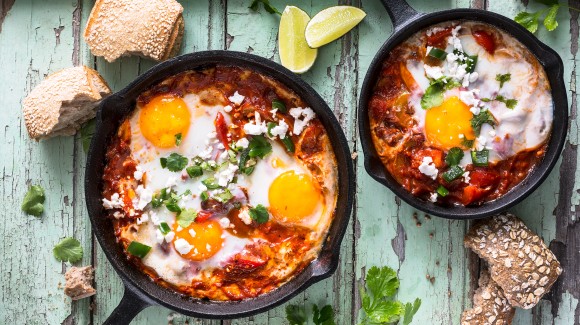 Shakshuka
Average 3 of 5 stars