This recipe for broad bean cream with marinated cherry tomatoes, basil and crispy bread with aromatic herbs is to die for and very nutritious. A good alternative for your morning granola.
Preparation
Wash the cherry tomatoes and cut them into wedges.
Put them in a bowl with 4 tablespoons of extra virgin olive oil, 1 peeled garlic clove, salt and pepper, thyme, lemon zest and leave to marinate for about 30 minutes.
Pour the previously peeled broad beans into a mixer and add 2 tablespoons of extra virgin olive oil, 50ml of water, salt and pepper.
Blend until you get a smooth creamy consistency. If necessary, add more water to make the cream more fluid.
Pour the broad bean cream in a pastry bag and fill the aperitif glasses half way.
Divide the cherry tomatoes over the broad bean cream
Heat 3 tablespoons of extra virgin olive oil in a pan. Once hot, add the crumbled stale bread crumbs (you can blend them briefly or break them up with your hands) and brown while stirring.
Serve the little glasses of broad bean cream with crispy breadcrumbs and fresh basil.
Related salads chosen by others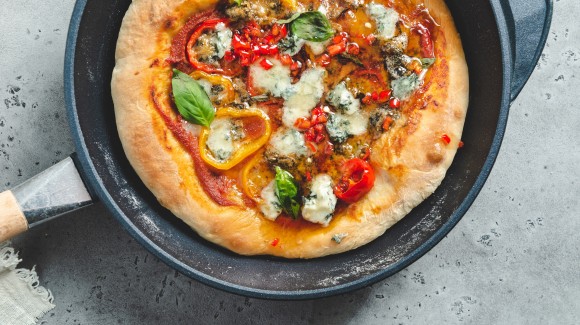 Pan pizza with pointed pepper, spicy cheese and hot honey
Average 3 of 5 stars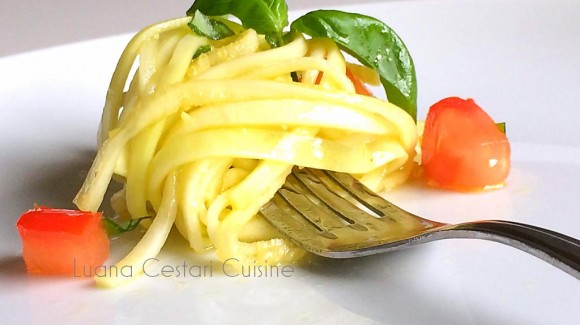 Zucchini linguine, tomato and basil
Average 3 of 5 stars
Seafood paella with tomatoes and vegetables
Average 3 of 5 stars