Take your tastebuds to the Middle East tonight with this mouth-watering tender lamb and pumpkin salad.
Preparation
Combine lamb with 2 tablespoons of olive oil, garlic, rosemary and season with pepper. Refrigerate for at least 30 minutes or overnight if possible.
Coat pumpkin slices in remaining oil. Cook on a preheated barbecue or grill plate until tender and slightly charred.
Season lamb with salt and barbecue for 2 minutes on each side or until done to your liking. Rest for 5-10 minutes before slicing on the diagonal into 2cm thick slices.
Mix dressing ingredients in a small bowl and season to taste.
Combine the Wash n' Toss the Baby Spinach with half the dressing, pine nuts and warm pumpkin slices. Arrange on a large serving platter and with lamb on top, sprinkle with feta and drizzle with remaining dressing before serving warm.
Tips from the author
Tip: This salad also works well when served with Wash n' Toss Wild Rocket.
For a Middle Eastern twist, sprinkle pumpkin with cumin before grilling and toss through some couscous before serving.
Related salads chosen by others
Yoghurt sauce
Average 3 of 5 stars
Basic hummus
Average 3 of 5 stars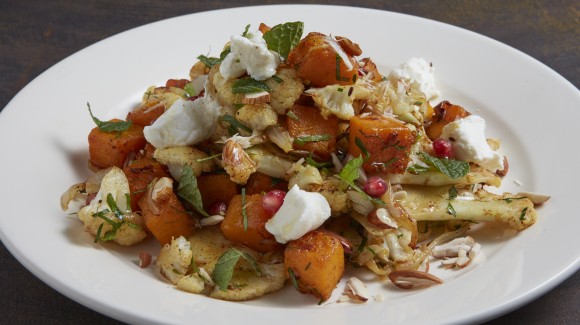 Butternut pumpkin and cauliflower salad
Average 3 of 5 stars