A easy and tasty version of the popular caesar salad. Enjoy.
Preparation
Wash and toss the baby Cos lettuce. These leaves are small enough that you will not have to tear them.
Heat 1 teaspoon of oil in a large frying pan over medium heat. Add the chopped bacon and cook, stirring, until golden in colour (this should take approx. 3 min). Remove bacon and place on paper towel to absorb fat.
Heat the butter and remaining olive oil in the pan. Add the garlic and bread and cook, stirring occasionally, once again until the bread turns golden in colour. Transfer to a plate and let sit.
Dressing: Place the egg in a small saucepan of cold water. Bring to the boil. Cook for 1 minute. Drain and then cool under cold running water. Crack the egg into a bowl. Use a teaspoon to scoop any egg remaining in the shell into the bowl. Add to the egg, vinegar, oil, mustard, salt and pepper and anchovies (if desired). Blend together in a food processor until combined.
Combine the baby cos leaves, the bacon, bread mixture in a large serving bowl. Top with shaved parmesan. Drizzle over the dressing to serve.
Tips from the author
Recipe provided by Tripod Farmers - using their "Wash & Toss" brand of baby cos leaves.
Related salads chosen by others
Carrot and celery lentil salad with mint and coriander
Average 3 of 5 stars
Tomato and tuna flatbread pizza
Average 3 of 5 stars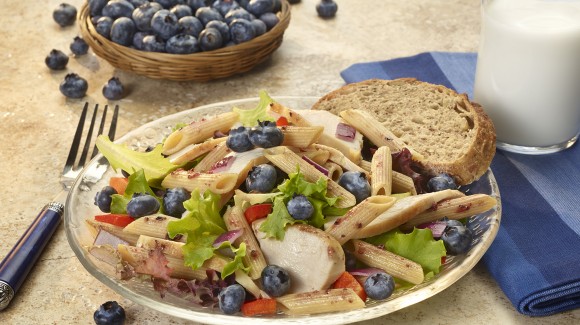 Blueberry and chicken pasta salad with field greens
Average 3 of 5 stars