The snack cucumber remains a firm favourite of ours. It is so easy to take with you because of its size and you can use it to prepare a unique and tempting veggie snack. The snack cucumbers make an appealing starter when presented this way. I place the snack cucumbers on a bed of lamb's lettuce, so that they stay put. The lamb's lettuce has a slightly nutty flavour, which combines well with the snack cucumbers.
I have created three different fillings for the snack cucumber, each of which has its own specific flavour, yet complements the others. An easy recipe and above all fun to make!
Preparation
It is easiest to start with the peanut sauce. Mix all ingredients in a small saucepan. Set aside until shortly before serving. When ready, heat the mixture to a smooth sauce.
Wash the snack cucumbers and cut them in half lengthwise.
Quarter the pomegranate and remove the seeds from one quarter.
Mix the cream cheese with the chopped stem ginger.
Wash and half the cocktail tomatoes.
Cut the avocado in half, scoop out the flesh and mash finely with a fork.
All preparations are now complete. Meanwhile, warm up the peanut sauce.
First, coat four cucumber halves with avocado spread. Grind some fresh pepper above and sprinkle with pomegranate seeds. Adding some fresh cut parsley is a nice touch.
Then spread four cucumber halves with the cream cheese and ginger mix. Sprinkle with toasted walnuts. For extra flavour, I add lemon thyme leaves.
Brush the remaining four cucumber halves with the warm peanut sauce. Arrange the cocktail tomato slices on top and sprinkle with chopped peanuts.
Divide the lettuce between four plates and place one of each of the three types of filled snack cucumbers per plate.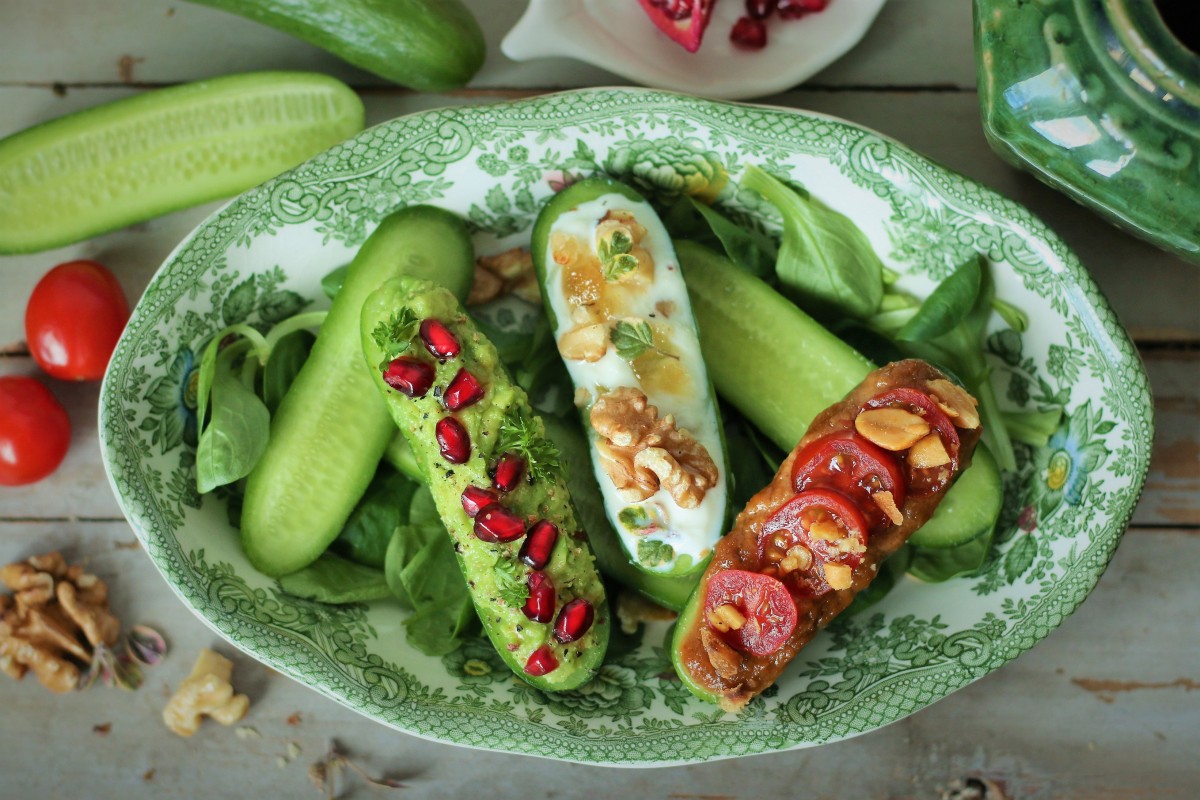 Tips from the author
If ginger is not to your taste, try mixing mango pieces through the cream cheese instead. Or mix the cream cheese with some garlic, pepper, and herbs.