The sweet pepper is marinated in lemon oil and baked afterwards. Thus the sweet taste comes out very good.
Preparation
Preheat the oven to 200 °C.
Mix olive oil with lemon juice. Season with salt and pepper to taste.
Wash the pointed pepper, remove seeds and cut into long, wide pieces.
Mix pepper with lemon oil and place it in a baking pan. Bake about 15 minutes in the oven.
Drain tuna, mash with crème fraiche, salt and pepper.
Let the pepper cool down and place it on a plate. Fill with tuna cream.
Garnish with lemon slices and cress.
Tips from the author
Marinated and baked peppers tastes great even without tuna cream – you can serve it as a side dish for lunch or at a barbecue.
Grilling vegetables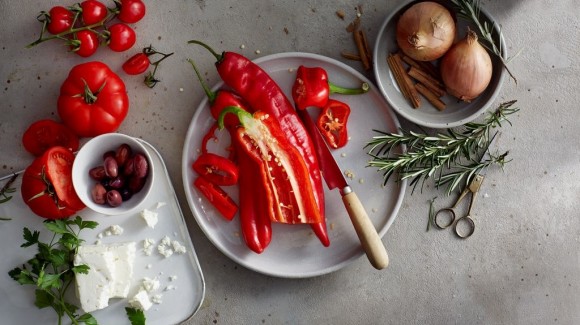 Sweet pointed peppers are great for grilling on the BBQ during summer. Use skewers or a grill basket to prevent small chunks of vegetables from falling through the grate. Remember to soak bamboo skewers for 30 or more minutes before using to prevent them from burning.