This salad is a favourite of my grandmother Manuela. I've always wondered what was so special about the combination of fresh cheese with quince paste, but when I finally tried this salad I understood at once. The mix of the ingredients results in an interesting, curious combination of flavours.
Preparation
Cut the fresh cheese and quince jelly into cubes of equal size, and set aside.
In a large serving bowl or platter, put a base of mixed greens, and top with the cubes of quince paste and cheese. Sprinkle the nuts and sunflower seeds all over.
To make the vinaigrette, combine a tablespoon of honey with the apple cider vinegar, extra virgin olive oil (approximately one part vinegar to three parts olive oil), and salt to taste.
Add the dressing to the salad and it's ready to enjoy!
Tips from the author
This recipe gives us the chance to turn a light salad into a powerhouse meal that will fill you with energy and all the natural nutritional benefits of the unsaturated fats from the quince paste. It contains a wide range of vitamins and minerals: magnesium, potassium, selenium, folate, vitamin E and a variety of B vitamins in the quince paste and vegetables; calcium, phosphorus, vitamins A, D, and B2 in the cheese; plus all the natural fibre in the vegetables.
Related salads chosen by others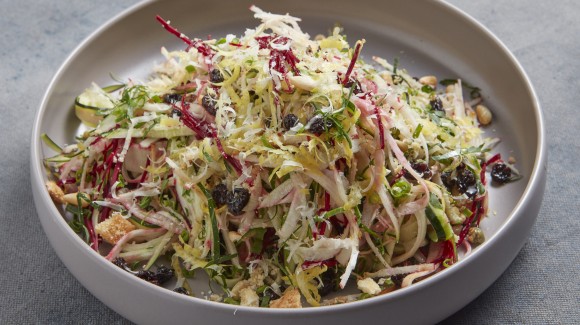 A refreshing homemade slaw with zucchini and beetroot
Average 3 of 5 stars
Broccoli salad
Average 3 of 5 stars
Heirloom tomatoes and goats curd salad
Average 3 of 5 stars