Eggplant turrets are an eye-catcher on every table, are quickly prepared and delicious.
Preparation
Heat oven to 180 degrees.
Cut eggplants into 1 cm thick slices. Brush with olive oil.
Cut tomatoes in dices. Finely chop garlic cloves and onions. Fry garlic and onions in a pan, add the tomatoes and oregano and let simmer for 15 minutes.
Heat a grilling pan on high heat and grill eggplant slices 2-3 minutes each side.
Cut mozzarella in slices and start piling up eggplant towers by layering eggplant, mozzarella, basil leaves and drizzle the tomato sauce over the eggplant towers. End with a mozarella slice on top.
Put the towers for 5 minutes in the oven, so the mozarella melts a little. Serve directly.
Tips from the author
These eggplant turrets makes 4 servings as an entree or starter!
Related salads chosen by others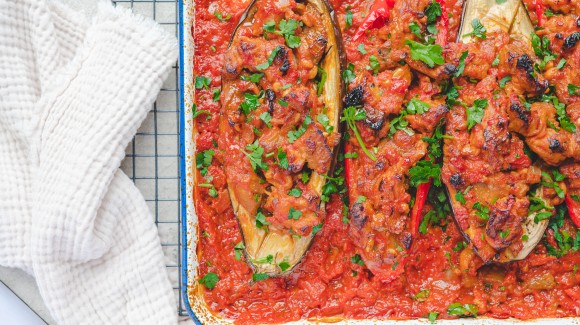 (Oven-baked) stuffed aubergine and pointed pepper
Average 3 of 5 stars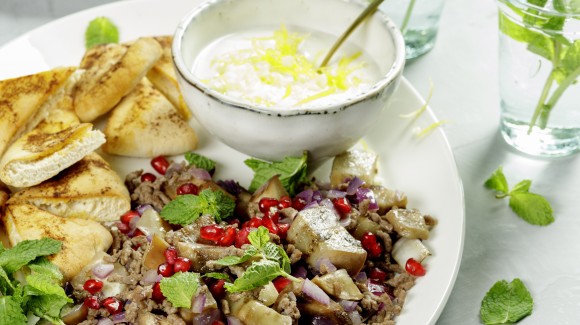 Moroccan stew with aubergine, pitta nachos and yoghurt dip
Average 3 of 5 stars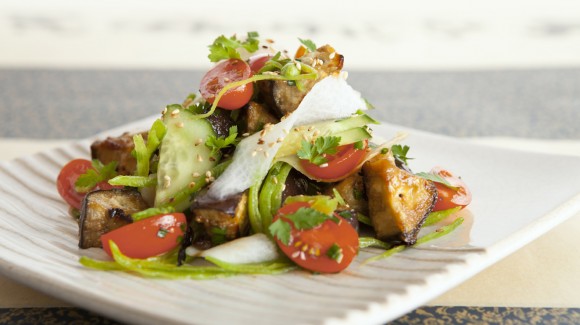 Japanese style miso roasted eggplant salad with ponzu dressing
Average 3 of 5 stars