Every month, I'm reminded of just how excited I am to be part of the amazing Love My Salad family. It crossed my life by chance 10 years ago and since then it has helped me to look at vegetables in a different light.
It also coincided with the time when we moved to the countryside and started growing our own vegetables in our small garden called El Huerto de Tía Lou. With each season, I harvest a bumper crop of the same vegetable and have no choice but to be creative. Thanks to Love My Salad, every recipe, every item, or ingredient presents me with the challenge to eat as well and exquisitely as possible. That's why all the recipes I prepare for this platform are very special to me.
Today, I want to share this delicious dish that we often make at home on festive occasions. It is caramelized roast pumpkin, flavoured with garlic and thyme, and served with feta cheese and pomegranate. An explosion of flavours that combine bizarrely well. That's why I think it's perfect for Christmas. It is beautiful, colourful, and nutritious. This Christmas is different from other years. We still don't know where we will be or whether we can celebrate together with family. We will all have to do our best to make everything extra appealing and special. That's why I recommend preparing my Christmas Caramelized Pumpkin. Something simple and delightful, lovingly prepared for a special evening.
I wish everyone all the best and sincerely hope that 2021 will bring us a good harvest, full of fresh air, light, and colour. Thank you for joining us in this wonderful challenge to eat healthy and tasty food.
Hugs,
Tia Lou
Preparation
Preheat the oven to 200 degrees.
Crush the garlic with the skin. Mix into an aromatic oil with a few sprigs of fresh thyme, fresh-ground black pepper, and a good dash of extra virgin olive oil. Set aside and allow the flavours to infuse.
Cut the pumpkin with the peel into large pieces about 3 cm thick. Place the pumpkin pieces on aluminium foil, brush with the infused oil, season with salt, and wrap the pumpkin in the aluminium foil.
Place the pumpkin in the oven for an hour until nicely caramelized.
Remove the pumpkin from the oven. Carefully remove it from the aluminium foil and retain the juices for the dressing
For the dressing, mix the cooking juices with some olive oil and a handful of pomegranate seeds.
Serve the salad with crumbled feta, a handful of pomegranate seeds, and drizzle the dressing over the pumpkin. Delicious served with some rocket on the side.
See how simple it is? You'll love it!

Related salads chosen by others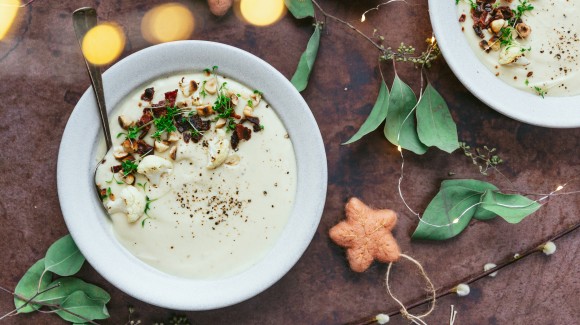 Cauliflower-parsnip soup with bacon-hazelnut crumble
Average 3 of 5 stars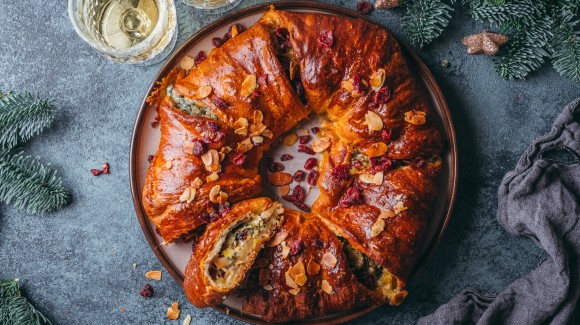 Croissant wreath
Average 5 of 5 stars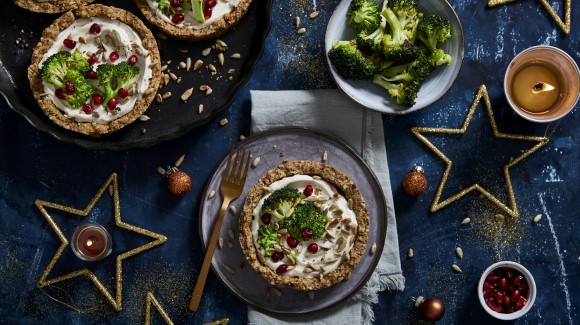 Tartlet of broccoli and pomegranate
Average 3 of 5 stars