How to make four easy and delicious Buddha Bowls
"OK, so I need you to blanch that broccoli, just enough to bring out the vibrant green, and cut the sweet potato in one centimetre discs," Adel says.
Adel is a dear friend of mine who I've known for many years and whose Lebanese background and general zest for life and new experiences makes her a whiz in the kitchen.
She watches me for a second as I cut through the sweet potato with not much finesse, and adds, "But can you make sure you cut all the way through, so you don't get that 'snapped off' edge at the bottom of each piece?"
Haha.
It's a Thursday night and I've roped two girlfriends in to creating Buddha Bowls with me. While I love salads, I haven't ventured into the world of Buddha Bowls. Seeing Instagram posts featuring perfectly coiffed vegetables plated inside slate bowls with a shimmering gold fork and expensive linen offered nothing to me but intimidation!
But, who doesn't like to learn new things? How does one make a simple Buddha Bowl? Enter Adel.
Are you lucky enough to have a foodie friend who gets you excited about creating special dishes? I am, and her enthusiasm is infectious. When it comes to putting a pretty and healthy dish on a plate that features all the right textures and flavours, and mixing up a dressing that will complement them all, Adel just 'gets it'.

So I invited her to a Buddha Bowl lesson in my kitchen, unloaded a shopping bag of colourful vegetables on to the benchtop and told her to go for it. Within 10 minutes, Adel had chicken and tofu on the stovetop, salmon in the oven and four different Buddha Bowls themes in mind.
"I'm thinking we do Asian with the tofu, a homestyle chicken bowl, the greens will be perfect with the salmon and then we'll make a really colourful, chunky vegetarian bowl."

Whatever you say, boss.
Adel had visualised it all in a matter of minutes, and while Elley (my superstar PR friend who managed to take killer photos of the Buddha Bowls with just a phone) got to work cutting vegetables, Adel manned the stovetop.
Over the sizzle of chicken and the sound of knives hitting the chopping board, we still managed to catch up and have a laugh, bringing two of my favourite pastimes together: spending an evening with friends and creating wholesome food.
The best part though, was the incredible ease in creating these bowls. The trick is to keep it simple.
For each of our bowls, we used a base grain like black rice, brown rice or quinoa. If you aren't a fan of grains, then you can opt to leave them out, however we liked the idea of having something rich in fibre and filling as a base.
For three of the bowls, we picked the proteins: chicken, a honey soy marinated tofu and salmon and topped the chicken and salmon with dukkah. If you're interested in making vegetarian or vegan Buddha Bowls, you can certainly leave the meat out as vegetables offer plenty of protein, especially broccoli, edamame, avocado, spinach and mushrooms.
When it comes to choosing what vegetables to include, it really comes down to personal preference. Use your favourite vegetables and either blanch, boil, steam them, or throw them in the bowl raw. It's good to consider different textures and flavours when choosing vegetables, the crunch of fresh capsicum is perfect with the creaminess of avocado, and broccoli florets are a different texture entirely. Bowls are also a great way to use up leftover vegetables. For example, if you've bought a whole cauliflower and have half leftover, grate some cauliflower for a raw rice base, or blanch some florets.
For the dressing, Adel has a failsafe recipe of mayonnaise, apple cider vinegar and lemon juice. It's made to taste so you can adjust the flavours to your liking. This concoction is delicious over the chicken and vegetarian bowl. Alternatively, a dollop of hommus, tzatziki or any dip for that matter, or a squeeze of citrus can bring all the ingredients together.
Within 45 minutes, there's four beautiful, colourful and delicious Buddha Bowls sitting in the kitchen, which Elley captured in pictures so I'm able to show you how easy it is to make a meal that's Instagram worthy and will 'wow' your dinner guests.
---
If you're like me and like to have a little direction, check out our ingredients below: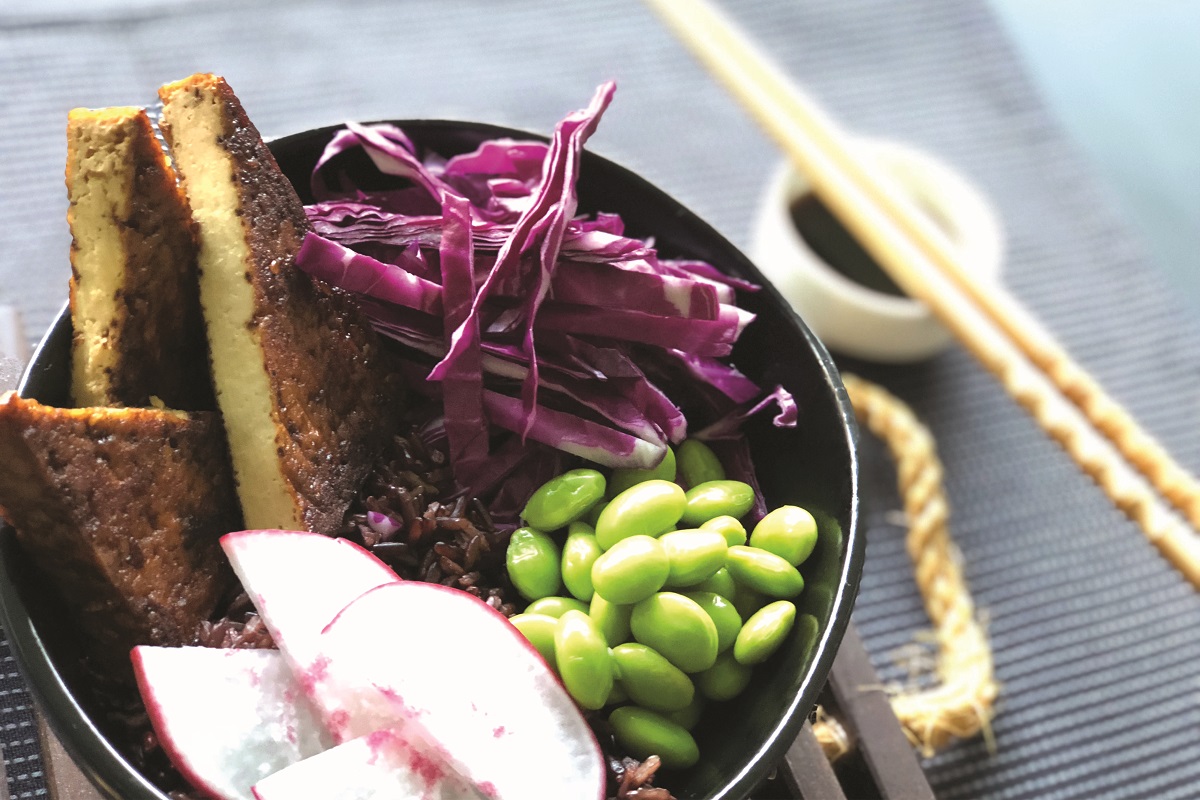 Asian inspired red cabbage Buddha Bowl
Base: Black rice
Protein: Honey soy marinated tofu
Vegetables:
Purple cabbage, finely sliced, raw
Edamame, packet, boiled from frozen
Radish, finely sliced, raw
Dressing: Soy sauce, optional
---
Salmon and green vegetables Buddha Bowl
Base: Brown rice and baby spinach
Protein: Salmon fillet, pan fried and topped with dukkah
Vegetables:
Broccoli florets, blanched
Green beans, raw
Avocado
Dressing: lemon wedge, squeezed
---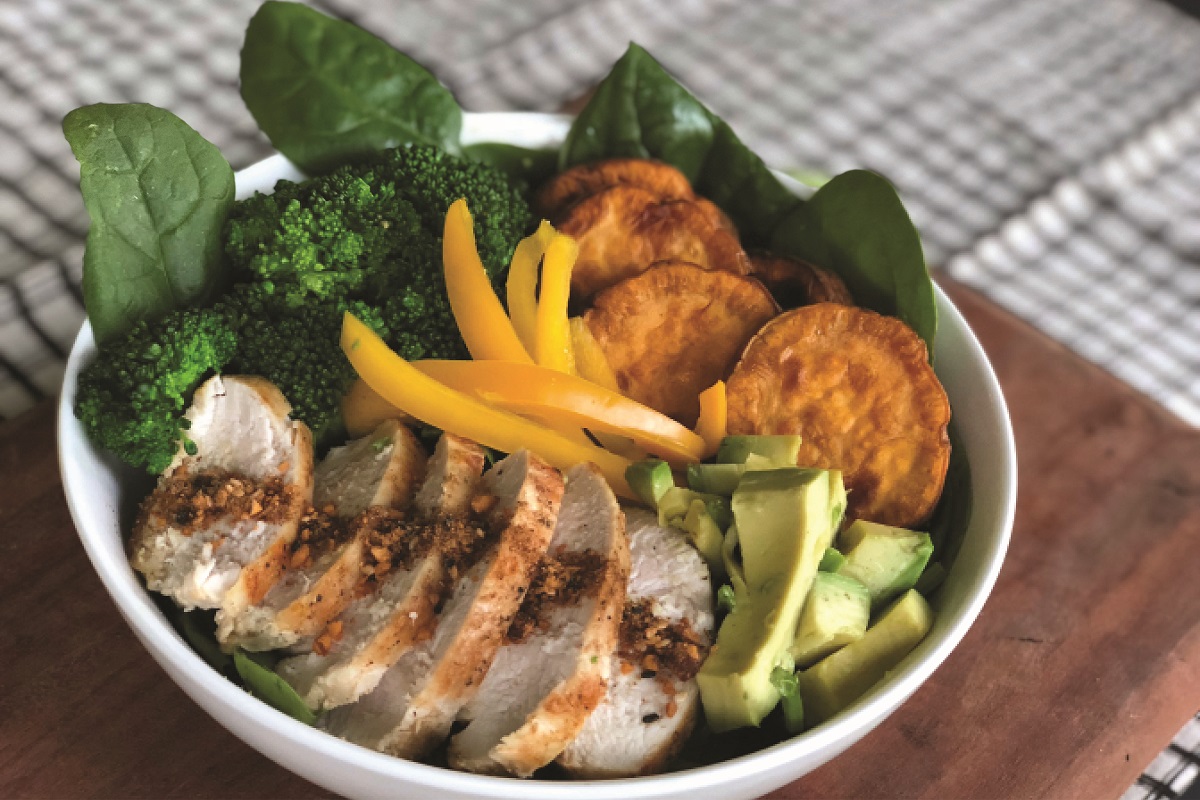 Homestyle chicken Buddha Bowl
Base: Brown rice and baby spinach
Protein: Chicken breast, pan fried, topped with dukkah
Vegetables:
Sweet potato, cut in 1cm discs, coated in olive oil and baked
Broccoli florets, blanched
Yellow capsicum, sliced finely, raw
Avocado, chunky pieces
Dressing: apple cider vinegar, lemon juice and mayonnaise.
---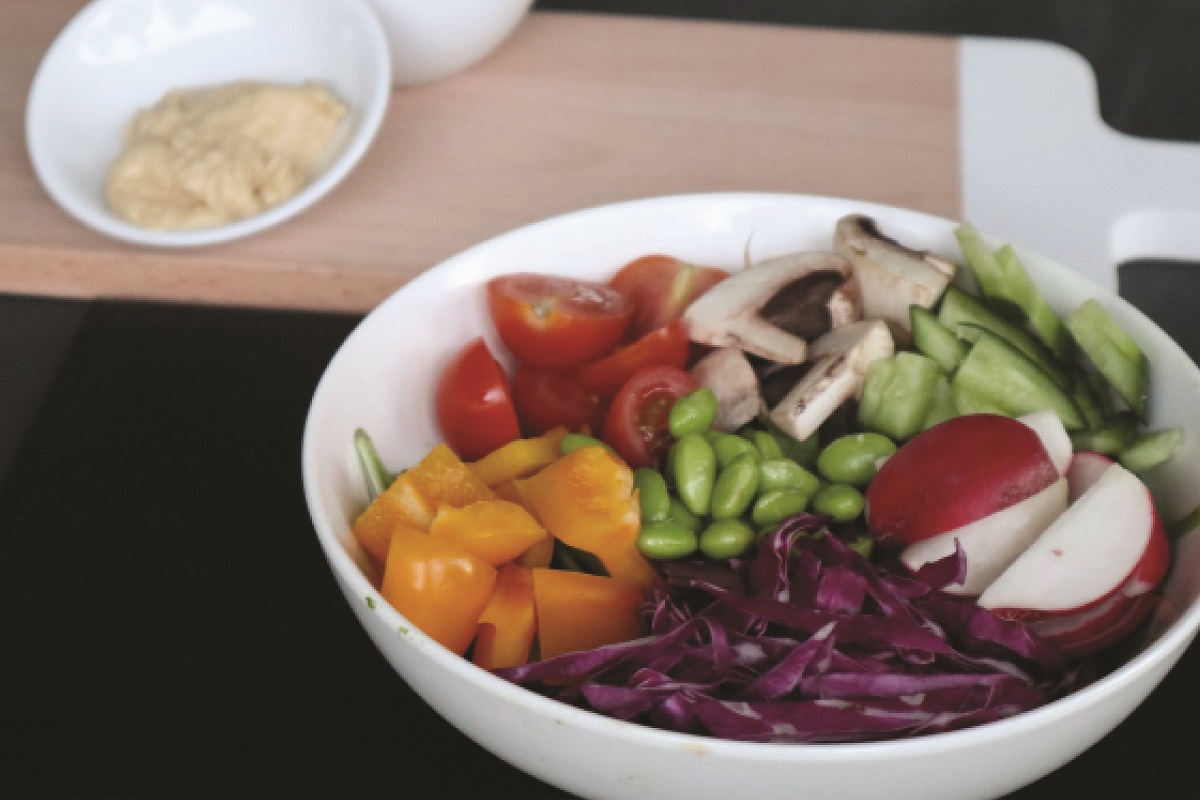 Vegetarian Buddha Bowl
Base: Brown rice and baby spinach
Vegetables:
Yellow capsicum, chunky pieces, raw
Red cabbage, finely sliced
Cherry tomatoes, halved
Radish, cut into ¼ wedges
Cucumber, cut into ¼ circles
Mushrooms, cut into ¼ wedges
Dressing: apple cider vinegar, lemon juice and mayonnaise (alternatively you can you use hommus, tzatziki or beetroot dip, or a splash of citrus).
---
When it came to devouring these bowls, we simply set them in the middle of the table and shared. Under the fairy lights in my outdoor alfresco and with the intermittent crack of a mozzie zapper, we had more laughs, sipped some wine and chatted the night away. I'll say it again, this is one of the most joyous things about food: how it brings people together.
As is the nature of kids who are descendants of Asian families (me) and Lebanese families (Adel), our creations never cater for 'just enough' and we could have fed six or more people with these Buddha Bowls. Lucky for me, I had lunches for the next few days. If you keep the dressing aside until you're ready to eat, the vegetables will stay fresh and delicious, which is perfect if you want make-ahead Buddha Bowls.
---
If you're interested in more foodie adventures with Adel, check out her Instagram.