Discover these tasty vegetable dips - perfect for snacking!
I believe the best way to enjoy snack vegetables is with a homemade dip on the side. At a recent 'Tasty Food' event in The Netherlands, I treated visitors to three of my favourite dip creations, which I am excited to share with you. Here are the recipes for beetroot, hummus and roasted pepper dips, best served with snack vegetables such as carrot, celery, and cucumber cut into dipping sticks.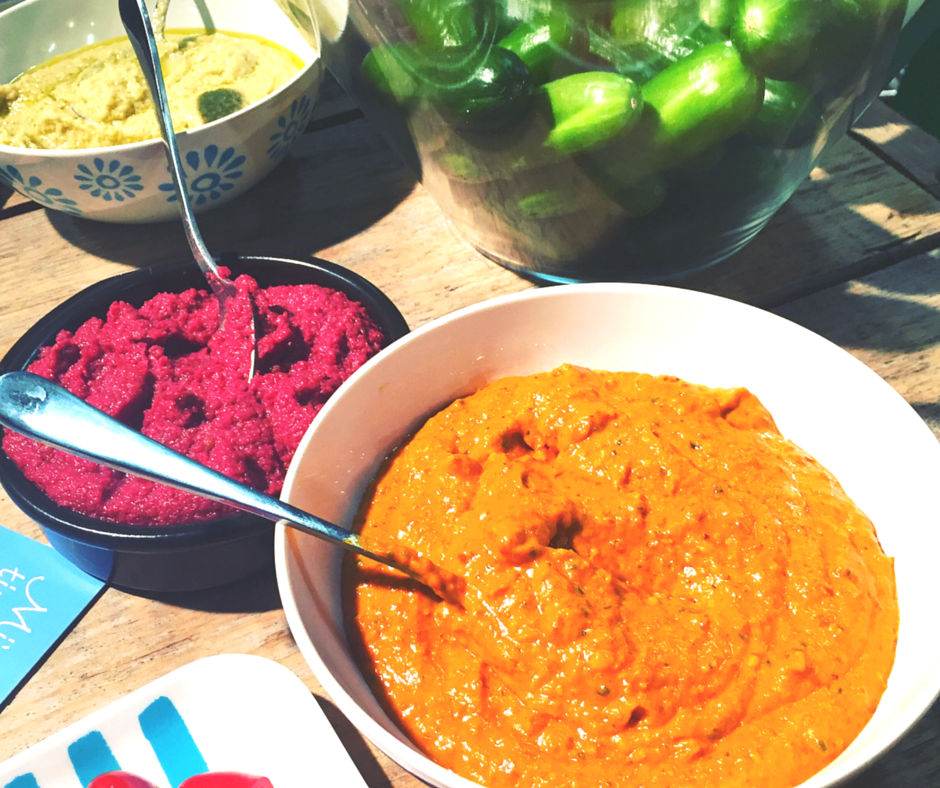 1. Beetroot dip
300g cooked chickpeas
250g beetroot
1 clove garlic
2 tsp cinnamon
2 tsp cumin seeds
2 tsp caraway seeds
3 tablespoons lemon juice
salt and pepper
Clean and cut the beetroot into pieces and roast in the oven for 20 minutes at 180 degrees. Set aside to cool. Meanwhile, gently fry the cinnamon, cumin and caraway seeds in a pan with some olive oil. Mix all ingredients together in a food processor and season with salt and pepper.
2. Hummus
400g cooked chickpeas
1-3 cloves garlic
3-4 tbsp lemon juice
1/2 tbsp paprika
1/2 tbsp cumin
3 tbsp tahini
3 tbsp olive oil
salt and pepper
fresh herbs e.g. parsley or coriander
Mix together all ingredients in a food processor until smooth. If the consistency is too thick, you can add some oil or dilute with a little water. Experiment with this mixture by adding more or less ingredients to suit your taste. Hummus most often includes chickpeas as a base ingredient, but you can substitute this with other ingredients such as beetroot or aubergine (eggplant) for a different flavour!
3. Roasted pepper (capsicum) dip
8 sweet peppers (capsicums)
1 red hot pepper (red chili)
150g mascarpone (Italian cheese)
3 tbsp chili sauce
1 tbsp ginger syrup
parsley
salt and pepper
Roast the whole red peppers in the oven for 20 minutes at 200 degrees, or until the skin begins to blacken. Peel the skin off the peppers and remove the seeds. Blend with the rest of the ingredients in a food processor until smooth. Add salt and pepper to taste.