This is a mega easy take-away lunch. Who was (or is) also fond of instant noodles? I used to eat the supermarket versions often, but now I'm loving homemade instant noodles so much more. They are delicious with sambal, fish sauce, vegetables and herbs.
There was a time when I thought instant noodles were healthy – just like oatmeal cookies and granola bars. I forgot the amounts of sugar and additives in it. When I just lived on my own I always had standard instant noodles at home. The tastiest I found was the shrimp flavour, not only with a powder for flavour, but also with a bag of oil and a slippery substance, of which I still do not know what it is. Despite that, I liked to eat it, and it was a cheap meal when I was a poor student. And how good are instant noodles as a remedy for a hangover? Sometimes I started the morning with it. The hangover would actually get worse by consuming all that salt so it wasn't great for hydrating again.
A while ago I suddenly had huge instant noodle craving. In my memory it was super nice. This is also the case with dishes that you eat on vacation. In your mind it tastes great, but once you get home and taste it again, you no longer understand why you loved it so much. That's how it was for me too. I bought a bunch of noodle packets. Not one, but a dozen or so. I knew from now on I would want to eat noodles everyday. After an evening of wine, I made a noodle soup and it tasted fantastic. Really, blame it on the hangover. A day later I had another attempt. Took a bite, made a face and… well you understand what happened. This was the last time I'd eat packet noodles.
The idea is still fun and noodles are tasty so that's why I decided to make instant noodles myself. At home you can eat it out of a bowl, but if you take it as lunch, a jar is handy. Add noodles, sambal, fish sauce, vegetables and herbs when you're about to eat it, add some boiling water. Super simple!
Preparation
1. Cook the noodles as per the packet's instructions. Rinse under the cold tap and let drain.
2. Put the noodles in the jars. Divide the spicy sauce and fish sauce amoungst the jars. Place 1/2 stock cube in each jar.
3. Fill the jars with the green vegetables, shiitake, spring onion and coriander.
4. Just before eating, pour boiling into the jar, enough to cover the vegetables. Mix together and let stand until the vegetables are al dente.
5. Taste and if necessary, season with fish sauce and a little lime juice.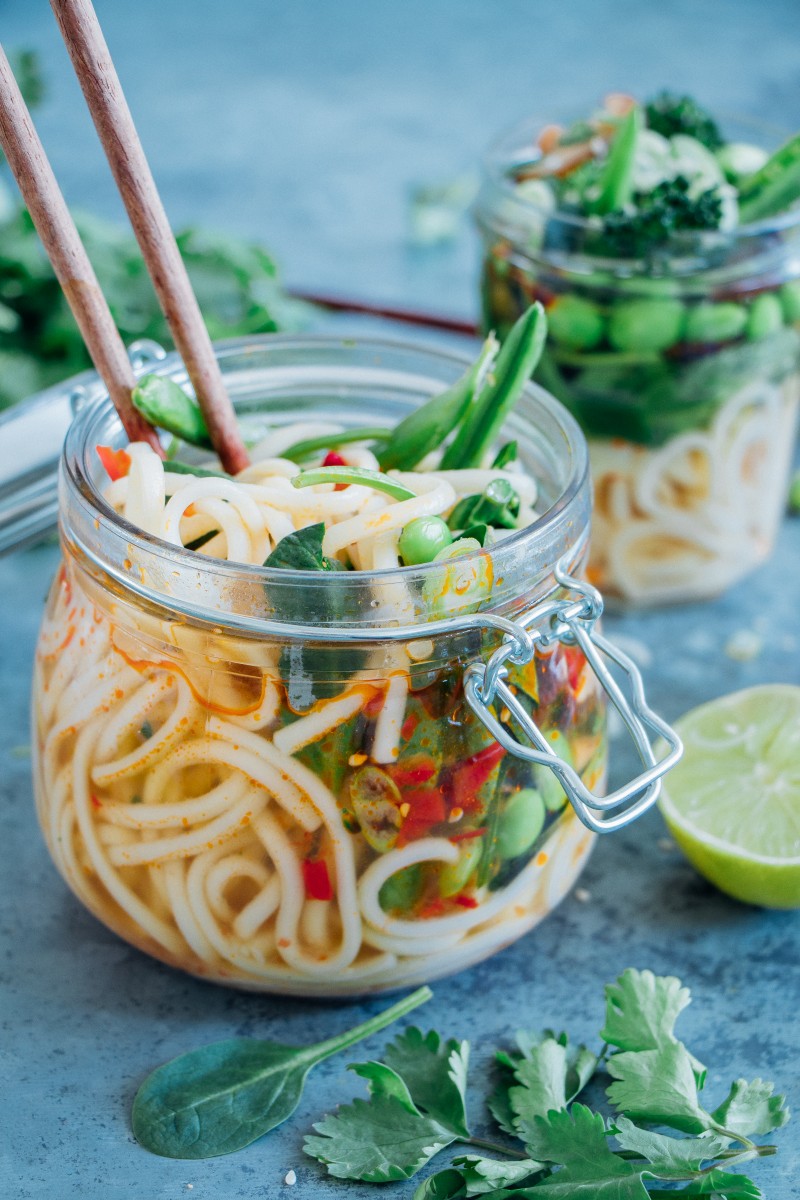 Tips from the author
TIP: Garnish with some roasted sesame seeds.