These wonderful fresh home made salad wraps are best made just before serving. The combination of cucumber, radish, mango, shrimp, chili, and mint, is refreshing. Enjoy.
Preparation
Peel the cucumber, half lengthwise, remove seeds.
Cut or thinly slice cucumber and radish.
Cut spring onion into thin rings.
Peel the mango, cut the flesh from the stone and slice into thin strips.
Remove the seeds then finely chop the chilli pepper.
Cut the prawns in half.
Pluck mint leaves from the stems.
In a bowl, combine the cucumber, radish, spring onions, mango, chilli, mint and prawns with the chilli sauce, rice vinegar and sesame oil.
Place each sheet of rice paper for s short time in a bowl of luke warm wanter, then drain.
Place 2 heaped tablespoons of the filling to each sheet of rice paper.
Fold and roll each wrap tightly.
The filling will make about 12 rolls.
Serve with soy sauce to dip.
Tips from the author
The filling can be adjusted to your tastes and the prawns are optional.
Related salads chosen by others
Seafood Salad
Average 3 of 5 stars
Avocado salad with shrimps and peppers
Average 3 of 5 stars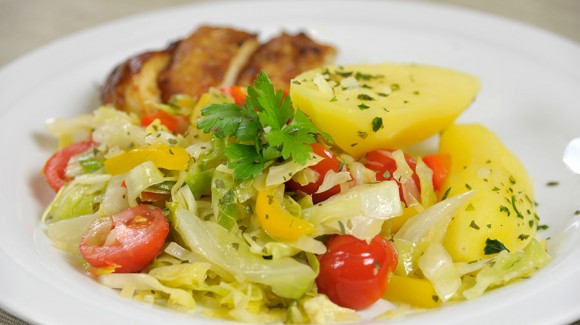 Braised cabbage and chicken salad
Average 3 of 5 stars