Who doesn't love a hot dog? If you want one without meat, try this delicious carrot hot dog with grilled carrots and cucumber.
If you ask me what I always have in stock, the answer is, without a doubt, cucumber! Use it in a salad, as a snack or make a cucumber salad; one of my favourites with this delicious vegetable.An Asian cucumber is specially grown to bake or stir-fry. I was curious to know if you could grill this cucumber and get the 'real' grill stripes. It was the inspiration for this recipe, which makes a delicious lunch or weekend meal!
Preparation
Start by preparing the satay sauce. Mix the peanut butter with all the ingredients in a pan. Warm this slowly until it forms a smooth sauce.
Cut the baguette into 4 equal pieces and then slice through the middle, leaving them joined at the edge.
Wash the radishes and grate them over a small bowl. Set this apart for later use. This will be used as a garnish over the satay sauce. Instead of the usual fried onions ...
Wash the cucumber. For this dish you use only half the cucumber. Use a cheese slicer to scrape 4 long strips the length of the cucumber.
Choose 4 carrots of equal length and remove the foliage. Leave the tip of the foliage on the carrot. This adds a lovely visual effect.
Boil the carrots briefly until al dente. Meanwhile, heat a grill pan with some oil.
Grill the 4 carrots on both sides until the grill stripe is visible.
Grill the cucumber strips the same way until grill stripes are created.
Finally wash the lettuce leaves and cut the fresh herbs.
Everything is now ready to build the hot dogs.
Open the baguette slices, top with lettuce, the grilled carrot and then the grilled cucumber. Scoop approx. 1½ tablespoons saté sauce over each bun. Sprinkle with roasted cashew nuts, the grated radish, some freshly ground pepper and the fresh-cut herbs.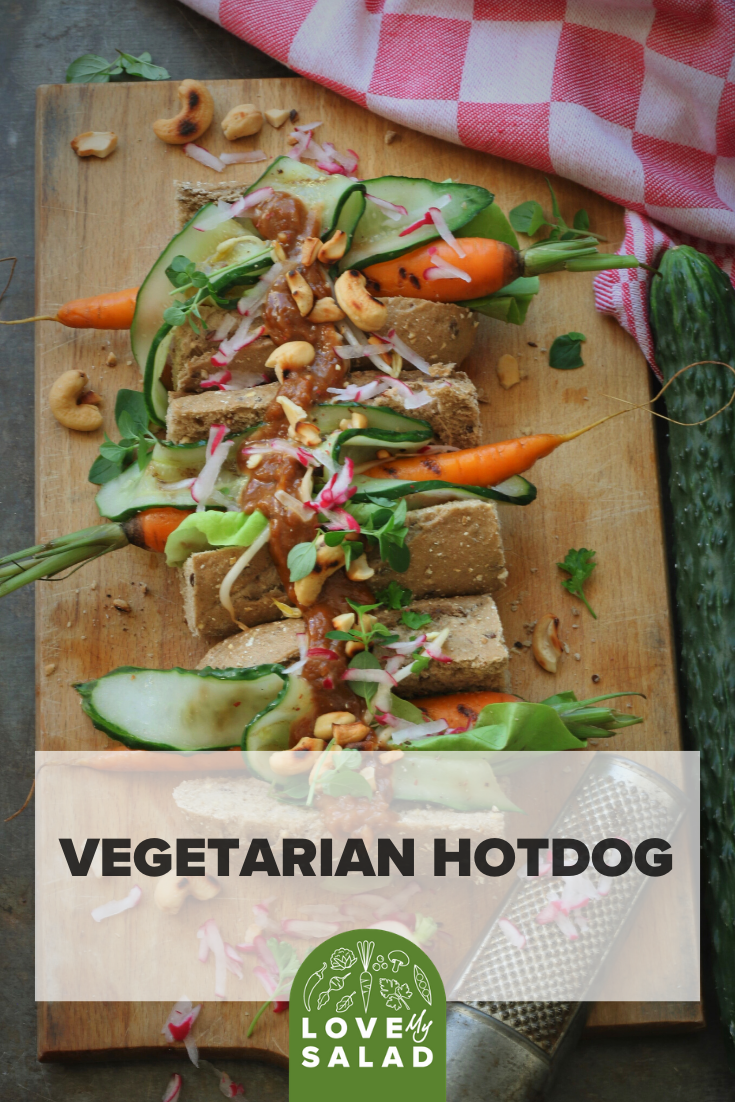 Tips from the author
For this recipe I chose to grill the vegetables, but stir-frying is also a good option. Stir-fried carrot, cucumbers, satay sauce, cashew nuts, and grated radish together with rice make a delicious evening meal!
An Asian cucumber can be purchased at Chinese supermarkets. Or use a normal cucumber instead.