Gather a group of friends and make this tasty veggie burgers with a grilled salad and a avocado lime dip. Put all the ingredients on the table, so everyone can make their own mix!
Preparation
Do you want to serve homemade veggie burgers? Follow the recipe:
1 can of chickpeas
1 zucchini, grated
1/2 red onion
3 tablespoons of coriander, chopped
3 tablespoons of red wine vinegar
2 tablespoons of peanut butter
180 gr oatmeal
2 tablespoons of olive oil
1 tablespoons of cumin
1 clove of garlic, chopped
black pepper
sea salt
Mash the chickpeas and mix the mashed chickpeas with the rest of the ingredients. Use a food processor or your hands until all the ingredients are combined. Form equally burgers with your hands and leave them aside.

Prepare the avocado-lime dip: Use a foodprocessor to mix the crème fraiche with avocado and the grated lime and juice. Bring to taste with salt and pepper. Put in the refrigerator until serving.
Preheat the oven to 200 degrees Celsius. Line a baking sheet with parchment paper.
Wash the zucchini , eggplant, butternut squash, capsicums, peel the onion and cut all the vegetables into chunks. Mix the vegetables in a large bowl with 2 tbsp olive oil , 2 tbsp lime juice, cumin, black pepper and sea salt.
Spread the vegetables on the baking tray and roast the vegetables for 20 minutes in the oven.
Bake the burgers in a baking pan 3-5 minutes each side.
Serve all the ingredients, grilled vegetables, burgers, lettuce and avocado lime dip to your guests and let them mix their burger the way they like!
Related salads chosen by others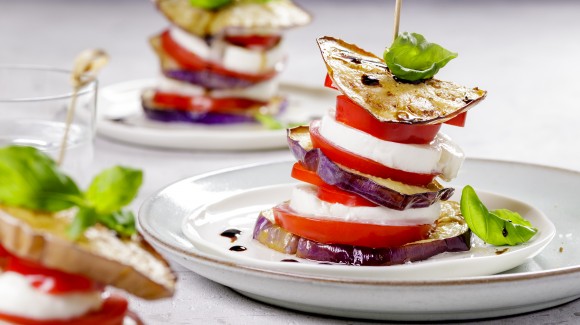 Grilled aubergine stacks with mozzarella and tomato
Average 3 of 5 stars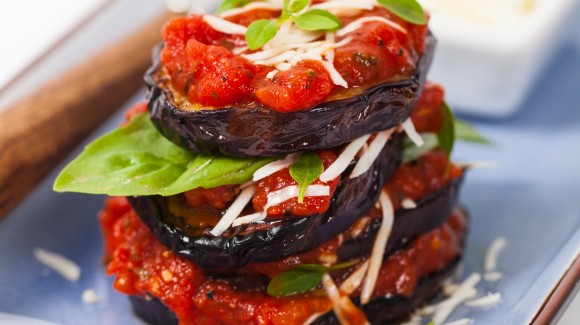 Eggplant turrets
Average 3 of 5 stars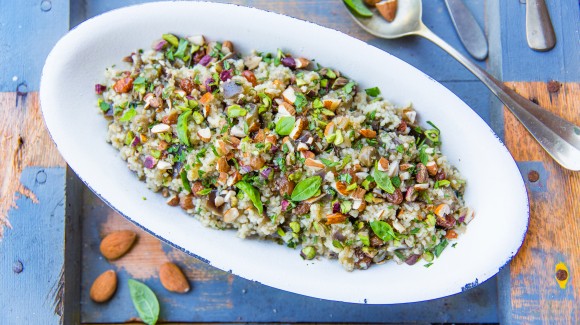 Sicilian couscous salad with eggplant capers and pistachios
Average 3 of 5 stars