Peperonata is a classic Italian recipe that contains slow cooked peppers and tomato sauce. This is comfort food at its best. We used Sweet Palermo pointed peppers in this recipe, because they are sweeter than other peppers and have less seeds, so it's easier to cook with. The peperonata is served with polenta and topped with anchovies, basil and balsamic vinegar.
Preparation
Preparation Peperonata
Cut the pepper into 3 pieces and cut the pieces into strips of 1 x 6 cm. Remove the seeds.
Heat the olive oil and butter in a frying pan over medium heat. Fry the onion and garlic until the onion is soft. This will take about 10 minutes.
Add the pepper and a pinch of salt. Put the lid on the pan and cook over low heat for 15 minutes. Stir occasionally.
Add the tomatoes, stir, and let simmer without lid for 30 - 40 minutes. Stir occasionally, crushing the tomatoes against the wall of the pan.
The peperonata is ready when the sauce has thickened. Taste and season well with salt.
Preparation polenta
Bring the chicken stock to the boil.
Stir in the polenta until smooth.
Season with butter, Parmesan, and salt & pepper.
Place the polenta in the baking dish and allow to cool.
Cut the polenta into rectangles and fry in a hot pan with a thin layer of olive oil until crispy.
To serve
Serve the peperonata on the polenta cookies and garnish with the olives, anchovies, balsamic vinegar, and basil.
Related salads chosen by others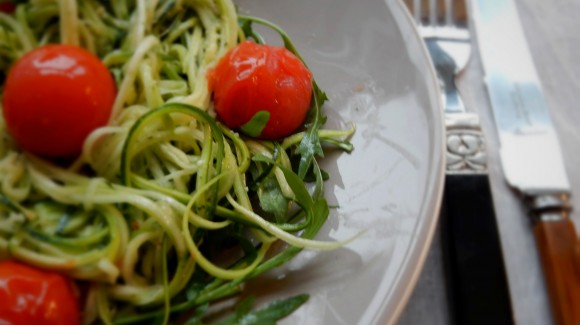 Easy zucchini noodles with pesto & grilled tomatoes
Average 3 of 5 stars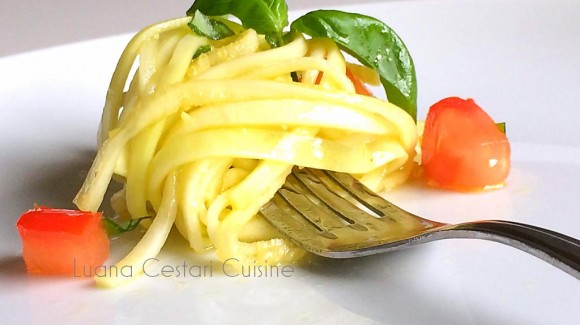 Zucchini linguine, tomato and basil
Average 3 of 5 stars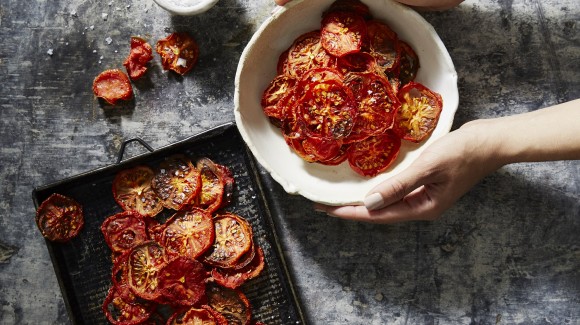 Oven Baked Truss Tomato Chips
Average 3 of 5 stars