More often, salads become complete meals. Cereal such as couscous, bulgur or pasta is added to give salads more body and nutritional value. Not at all pleasant for those with gluten intolerance or wheat allergy. That's why I made this wonderful spring salad in which rice products have a leading role. Not just for who doesn't tolerate gluten, but a wonderful recipe for simply everyone! I like to serve this salad as spring rolls. Works wonderful for pick-nics and lunchboxes as well! You can skip the rice sheets and just serve the salad in a bowl. It's up to you!
Preparation
Put the rice noodles in a large bowl and pour just enough boiling water on top to cover them. Cover the bowl immediately with plastic wrap (cling film) and leave them to soak until cooked noodles. Drain excess water before use. By preparing the noodles this way, they won't stick!
Bring the chicken stock with the coconut milk and lime juice to a boil. Then add the whole chicken breasts and cook them in the coconut broth over low heat until tender and done. Once cooked, leave the chicken to rest in the stock for a little while.
Then remove the chicken from the stock and let it cool just enough until you can touch it without burning your fingers.
Tear the chicken into strips using your fingers.
While the chicken is cooking, you can prepare the other ingredients:
Clean the carrots and cut them into strips.
Rinse the beansprouts if necessary and drain well.
Cut the broccoli into florets and cook them in mere minutes until al dente. They really should still be crisp!
Cut the spring onions into fine diagonal slices.
Making the dressing:
Mix the dressing ingredients in a small bowl, mix well. Use the dressing as a dip!
Making the spring rolls:
Place a bowl of water on your worksheet.
Soak the rice sheets in the water. It's best to soak just one sheet at a time, soaking one sheet whilst filling another. If you soak the sheets too short, it will be difficult to roll them up. Soaking them too long makes the sheets stick together. This might take some exercise, but you'll soon learn to cope perfectly, you'll see!

Proceed as follows:
Soak a sheet of rice paper and spread it on your worksheet (a non-stick board works best).
On one side make a row of stuffing using some noodles, vegetables and chicken.
First, turn the sides over the filling than roll it roll it up like an egg roll.
Arrange the finished rolls on a plate and cover them with a damp cloth to keep them from drying out.
Tips from the author
Would you like to serve them later? Place the dish in the refrigerator for up to one day. Cut the rolls in half before serving for a better look.
Related salads chosen by others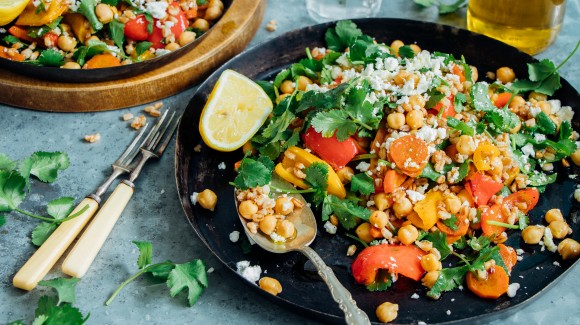 Easy take-away lunch salad with spelt, roasted vegetables from the oven, chickpeas, coriander and feta
Average 3 of 5 stars
A classic Greek salad
Average 3 of 5 stars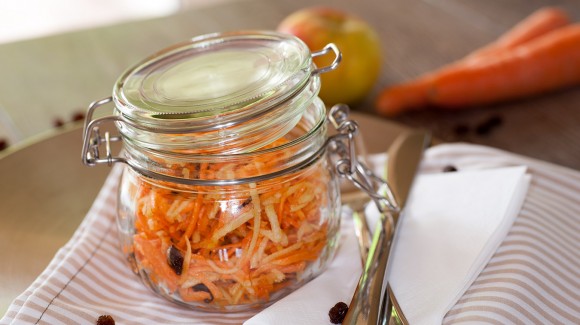 Claudia's Carrot Salad
Average 3 of 5 stars