We've all heard of Salade Nicoise, but what's a Sandwich Nicoise? Well, it's a fabulous lunch option because it's a salad between two slices of toast – or it works well with crispy bread too.
Preparation
Slice the green beans diagonally (into long diamond shapes) of approx. 4 cm in length. When the water is boiling, add the beans. Add salt to taste and boil them for approx. 7 min. until just cooked. Rinse them under the cold tap to cool and place them into a bowl.
In the meantime, finely chop the onion and cut the tomato into wedges. Drain the olives, tuna and anchovies. Add them to the green beans and stir together.
Toast the bread until golden brown. Squeeze the lemon. Crush the garlic above the olive oil, add the mustard and season to taste with salt and pepper and lemon juice. Drizzle the dressing over the salad.
Cut the eggs into slices. Spread the mayonnaise onto the toast and then divide the salad over 4 of the slices and garnish with the egg. Complete each sandwich by placing another slice of toast on top.
Related salads chosen by others
Caesar Salad without anchovies
Average 3 of 5 stars
Classic Italian panzanella
Average 3 of 5 stars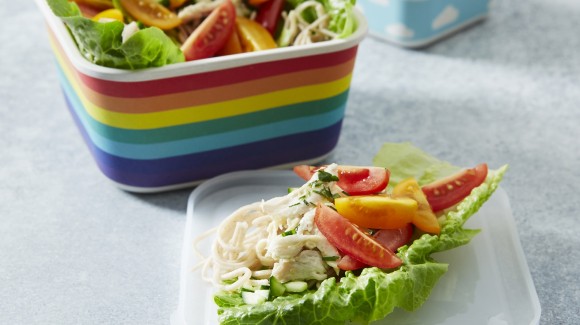 Perino Tomato Lettuce Cups
Average 3 of 5 stars