up
54 People like this recipe
A lovely salad with fresh components, like Salanova lettuce or spinach leaves. You can also add cheese, bacon and nuts. Very tasty.
Preparation
Cut core out of lettuce. Add lettuce leaves, spinach and rocket to colander – rinse thoroughly and allow to dry. Add sliced capsicum, cherry tomato and cucumber chunks and toss. Heat a little oil in a saucepan, add bacon, brown lightly then add pine nuts and sunflower seed mix, stir until lightly roasted . Take off heat, allow to cool. Serve salad mix onto individual plates, sprinkle bacon and nut mix over salad, add cheese over the top with the balsamic vinegar and olive oil dressing.
Tips from the author
Variation: Add hot shredded chicken and diced potatoes for a warm salad.
Related salads chosen by others
Spinach salad cherry tomatoes cucumber Dutch salad
50 People like this recipe
Honey roasted pumpkin spinach and pine nut salad
71 People like this recipe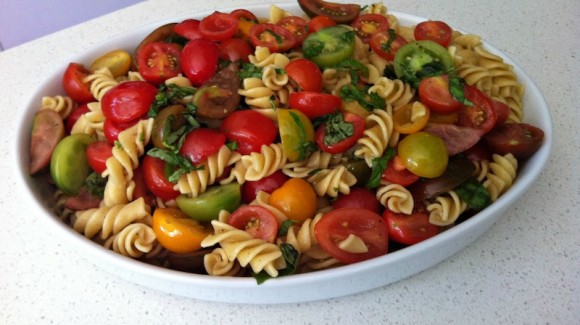 Mixed tomato and fusilli salad
44 People like this recipe