You don't need many ingredients to make a wonderful salad. This salad can be put together in no time at all, so you can even make it in the morning, just before leaving for work. Using my 'to go' tip, you can take this salad anywhere! I always have a living lettuce in a pot on my kitchen counter. Water it a little every day, it doesn't need anything else. It's like a mini vegetable garden and secretly I pick from it all day long: a few leaves on my cracker, a few leaves on a sandwich and of course for the salad at dinner time.
Preparation
Making the salad: I make this salad in an empty and clean jar, excellent for 'to go'!
Halve the cucumber, remove the seeds and cut the cucumber into thin slices.
Halve the tomatoes (except the tomatoes for the dressing).
Halve the sweet peppers, remove the seeds and cut the peppers into thin strips.
Place a little lamb's lettuce on the bottom of the jar.
Arrange the leaves of lettuce along the side of the jar.
Now arrange all ingredients in the jar.
For the dressing: Carve the tomatoes on the upper side and squeeze out the seeds into a bowl.
Add the remaining ingredients to the seeds and stir well.
Divide the dressing over the salad. If desired, add pine nuts, chèvres doux and spring onions.
Garnish with cress.
Twist the lid on the jar and you're ready to go!
Tips from the author
Keep the salad up to a day in the refrigerator or take it with you in your bag. During your lunch break, find a sunny park bench and enjoy! An ideal salad to put in your kid's lunch box. Do you prefer to take a large salad to go, use a large jar or a coffee to go cup. This salad tastes great on a sandwich. Make sandwiches with Salad of lamb's lettuce for a sunny picnic! *Salanova consists of a range of different lettuce types, featuring the "one-cur-ready" principle. That means that with one cut the head separates into equally-sized leaves. I like this lettuce types because I can keep them in a top on my kitchen counter and use just part of the leaves, without cutting the whole head, so the plant can live longer.
Related salads chosen by others
Cantaloupe with parma ham, feta and roasted pumpkin seeds
Average 3 of 5 stars
Salad with figs, sweet potatoes and broccoli
Average 3 of 5 stars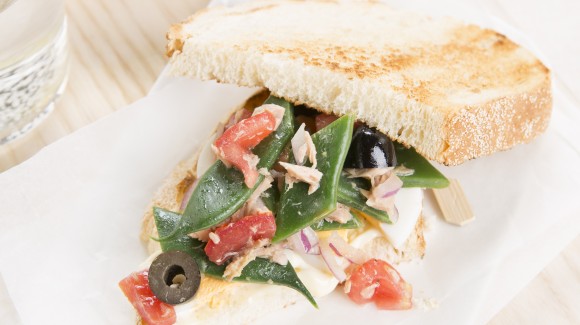 Sandwich Niçoise
Average 3 of 5 stars