Hello spring! Over here we couldn't be more excited about sun, flowers, light, and all things spring. Every year, I'm surprised when the weather starts to turn warmer and everything, literally everything in life seems better. We can walk to the park with Larson, start using fresh chives from the garden, and pack up our winter parkas in favor of springtime garb.
And of course, our recipes can turn from heavy winter foods to light and bright! This new frittata is everything spring, contrasting the fresh goodness of asparagus with the roasty sweetness of Mini San Marzano tomatoes. You may notice that Mini San Marzano tomatoes are not typically a springtime food. We're huge supporters of local tomatoes, which show up around July here in Indiana. However, we've started to allow sustainably grown hydroponic tomatoes into our repertoire in the spring, when we're craving tomato juiciness but local crops are months away.
Preparation
Preheat the oven to 400F.
Slice the tomatoes in half. Line a baking sheet with parchment paper and place them on top. Drizzle the tomatoes with olive oil and sprinkle with oregano, kosher salt, and fresh ground black pepper. Roast the tomatoes 22 to 25 minutes until tender and slightly browned.
Wash the asparagus and chop off the tough ends. Lay asparagus spears on a flat surface. With a vegetable peeler, shave each spear from the from the bottom up. Remove the tips if desired. Measure out 1 cup of ribbons.
Whisk together the eggs, 1/4 cup feta cheese crumbles, milk, kosher salt, and several grinds black pepper.
In a 10-inch ovenproof skillet, melt the butter and swish around the pan to evenly coat. Pour in egg mixture and cook over medium heat for 3 to 4 minutes until the edges are set. Top with the tomatoes and asparagus ribbons, arranging them as desired, then sprinkle with the remaining 1/4 cup feta.
Place the skillet in the oven and bake 10 to 12 minutes until the center is firm. Cool for a few minutes before serving, then cut into pieces and serve warm. (You also can serve at room temperature.)
Tips from the author
The tomatoes we used here are Heavenly Villagio Marzano® from Village Farms. Village Farms' use of hydroponics in greenhouse growing allows them to provide delicious tomatoes year-round by farming indoors using sustainable growing practices. Not only are these growing methods eco-friendly, they result in ripe, juicy flavorful tomatoes--the flavor is unlike any other grocery store tomato we've had. Village Farms' growing methods use:
86% less water compared to the average tomato grown outdoors.
97% less land to grow the same amount of tomatoes grown outdoors.
Beneficial insects to control pests and stimulate healthy plant growth, instead of harmful chemicals
The frittata is one of our favorite ways to make a simple brunch entree. And, you can even serve them as a simple dinner, alongside fresh bread and a salad! This roasted tomato & asparagus frittata is lovely for spring family gatherings, like an Easter brunch or Mother's Day brunch. While you'd imagine cooking the asparagus and using the tomatoes raw, we've flip-flopped it! To capitalize on the fresh spring flavor of asparagus, we've shaved it into long ribbons. Not only is the flavor lighter than cooked asparagus, the ribbons look lovely and bright green as they decorate the top of the frittata. To contrast the fresh green asparagus, we've roasted the Heavenly Villagio Marzano® tomatoes, which develops their robust flavor into something even more complex. The bites of roasty tomatoes inside the frittata remind us of the savory goodness of pizza! To top it off, a sprinkling confetti of feta cheese, which adds a salty element.
While these tomatoes are lovely raw, we loved roasting them to develop their flavor! You could use the roasted tomatoes in other ways outside of the frittata: try them as a side dish, on a Caesar salad (yum!), or inside a grilled cheese.
Look for Village Farms tomatoes at your local grocery (ours has them!). For more information, go to VillageFarms.com. Happy spring!
Related salads chosen by others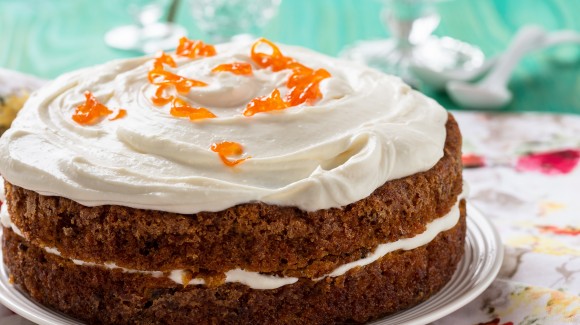 Carrot cake with lemon mascarpone icing
Average 3 of 5 stars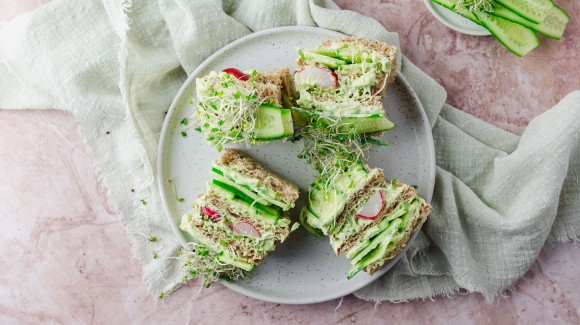 Baby cucumber sandwich
Average 3 of 5 stars
Vegetarian mini quiches
Average 3 of 5 stars