There are over 120 different identified varieties of quinoa (KEEN-wah), but the most commonly cultivated and exported are white, red and black. Quinoa is mineral-rich, gluten-free and contains all nine essential amino acids.
The large flavonoid content in quinoa, plant antioxidants that include quercetin and kaempferol, are important molecules that have anti-inflammatory, anti-viral, anti-cancer and anti-depressant effects. Soluble fibre helps to reduce blood sugar levels, lower cholesterol, increase fullness and help with weight loss. Quinoa ranks much higher than most grains in fibre.
While the antioxidant level of quinoa is high, soaking and sprouting the seeds increases these benefits.
Preparation
Combine all ingredients, except for the avocado, feta cheese and alfalfa sprouts. Before serving, add the avocado puree to the plate, then add the salad and finally top with crumbled feta and sprouts.
Related salads chosen by others
Easy zucchini noodles with capsicum, smoked trout and roasted hazelnuts
Average 3 of 5 stars
Tomato and tuna flatbread pizza
Average 3 of 5 stars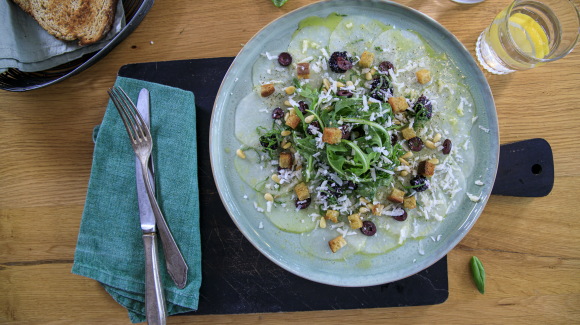 Kohlrabi carpaccio salad with blackberries, croutons and Pecorino
Average 3 of 5 stars