A delicious and nutritious mushroom rice salad bursting with autumn flavours! The perfect salad to serve for lunch or as side dish. If you prefer hot meals over cold ones, no problem, this salad can be served both warm and cold. See the intructions in the preparation.
Preparation
Cook rice according to package direction. Then, cool to room temperature.
Meanwhile fry mushroom slices in olive oil in a large frying pan until golden (4 min.). Stir in garlic and fry for 1 more minute.
Mix rice, mushrooms, fresh herbs, lemon zest and spinach strips in a salad bowl. When it's a little dry, add some extra olive oil and bring to taste with salt and pepper.
This salad can be served cold or warm, if you prefer the warm version, the rice does not need to be cooled to room temperature.
Related salads chosen by others
Savoury pumpkin pie with red onion and feta cheese
Average 3 of 5 stars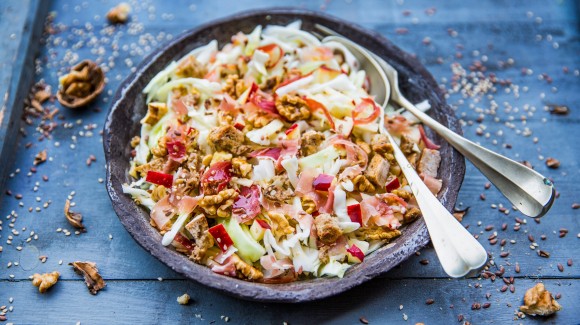 Cabbage salad with apple and bacon
Average 3 of 5 stars
Celeriac oven chips with spicy dip
Average 3 of 5 stars