A refreshing salad with melon, easy to make and serve as an ideal starter or snack to share.
Preparation
Separate and break the washed cos lettuce leaves into smaller sections
Wash and halve the figs
Cut the melon, remove the seeds and cut into bite-sized pieces
Assemble the salad on individual plates or a large sharing plate and serve with the balsamic dressing.
Season with freshly ground salt and pepper to taste
Tips from the author
Chef Sam has designed many delicious salad recipes especially for Love My Salad. Each one is designed to highlight the flavour of a certain vegetable. The sweetness of melons combines well with a acidic and salty flavours.
Did you know? Cantaloupe melons (also called rockmelons) contain a vitamin A and C.
Related salads chosen by others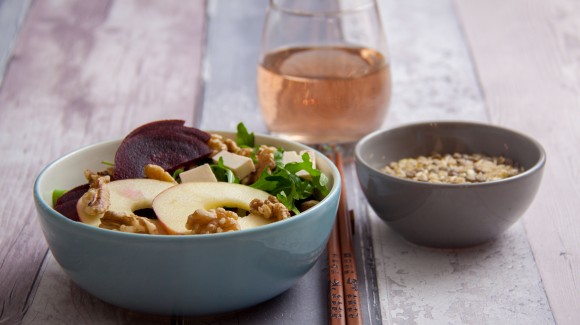 Beetroot and apple salad with lentils, rice and walnuts
Average 3 of 5 stars
Goat cheese salad with honey, mustard and pistachio dressing
Average 3 of 5 stars
Salad sandwich with spinach, avocado and hummus
Average 3 of 5 stars