Do you think the kiwifruit hails from New Zealand and grows on a tree or shrub? Well, guess again, because the green fruit with the black seeds actually originates from China, was formerly known as a gooseberry and grows on a vine!
Growing kiwifruit has been an organic affair for nearly 30 years for producers Marguerite and Tom Hackett who live near Bonville, on the New South Wales mid-north coast of Australia where they farm 550 vines on 2.5 hectares. Tom explains that visitors are amazed at the amount of fruit that hangs under a vine. "In a good year these vines can have 150 kilos of fruit on each, so it's a fair bit," Tom says. He suggests everyone try's Marguerite's refreshing kiwi salsa.
Preparation
Combine all ingredients and gently mix. Serve on top of grilled, pan-fried or barbecued fish.
Tips from the author
Kiwi boosts immunity thanks to the vitamin C content, aids digestion and is also a good source of vitamin E, an antioxidant known to protect skin from degeneration.
The fruit's high levels of lutein and zeaxanthin, natural chemicals found in the eye, help protect against macular degeneration.
It is also in the low category for glycemic index, meaning it does not raise your blood sugar quickly.
So many wonderful reasons to enjoy kiwifruit, you now have no excuse!
Recipe and photo courtesy of From Paddock to Plate a book by Louise FitzRoy (page 128)
Related salads chosen by others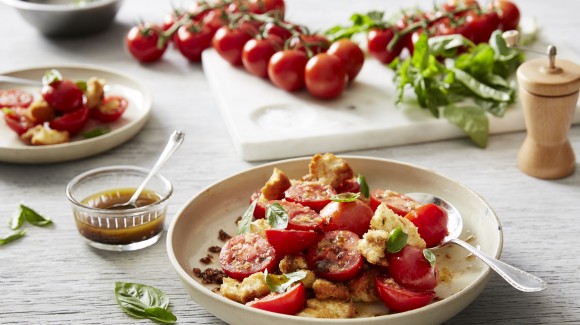 Cocktail Panzanella
Average 3 of 5 stars
Mexican quinoa salad
Average 3 of 5 stars
Mini aubergine pizzas with cherry tomatoes, mozzarella and basil
Average 3 of 5 stars