A kohlrabi carpaccio recipe with Italian flavours and the fruity taste of blackberries.
Preparation
Peel the kohlrabi and slice a small piece off both sides.
Use a mandolin to cut the kohlrabi into round slices as thin as possible.
Divide the slices evenly between the plates.
For the dressing, mix the olive oil with the lemon zest, lemon juice, and salt & pepper.
Drizzle the slices with the lemon dressing and sprinkle with freshly ground black pepper and sea salt.
Keep aside 2 tbsp of dressing for the rocket.
Cover the plates with plastic wrap and leave them to marinate.
Slice the blackberries and mix with the basil and the olive oil.
Fry the bread cubes in the pan until golden and crispy.
Mix the remaining dressing with the rocket and divide between the 4 plates.
Garnish with the blackberries, croutons, black olives, pine nuts, and the pecorino.
Related salads chosen by others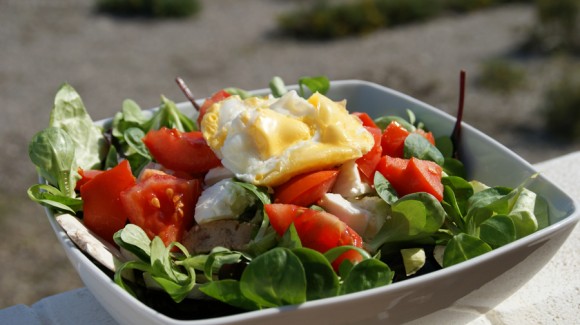 Mediterranean garden salad
Average 3 of 5 stars
Carrot and celery lentil salad with mint and coriander
Average 3 of 5 stars
Quinoa and avocado salad
Average 3 of 5 stars