A vegan Asian roasted kohlrabi recipe with peanut crunch topping. Perfect starter or side dish!
Preparation
Preparation kohlrabi
Preheat the oven to 180 degrees.
Mix the mushroom stock with the water, soy, and nori sheets. Bring to the boil.
Peel the kohlrabi and slice a half centimetre off both sides. Prick the kohlrabi all over with a wooden skewer.
Place the kohlrabi's in a suitable baking dish and pour the boiling stock over it. Cover the baking dish with a lid or aluminium foil and cook the kohlrabi's in the oven for 1 hour. Turn the kohlrabi's halfway through. Use a skewer to check whether the kohlrabi is done. The skewer should easily insert into the centre of the kohlrabi. If this is not the case, then cook the kohlrabi longer.
Halve the kohlrabies. Brush the slices with the stock. Heat the sunflower oil in a pan on the stove top. Stir-fry the slices over high heat.
Preparation peanut crunch
Toast the peanuts and coconut chips in a dry pan until the coconut has turned golden brown on the edges.
Heat the sunflower oil in the pan and fry the garlic and chilli.
Remove from the pan and cool on kitchen paper.
Coarsely chop the peanuts and coconut. Mix with the garlic/chilli mixture.
Stir the soy sauce, brown sugar, and lime juice into the peanut butter.
Fold the peanut mixture and dried onions through the peanut butter.
To serve
Cut the scallions into thin diagonal slices, pluck the coriander leaves, cut the red chilli into thin diagonal slices.
Place the fried kohlrabi on a plate. Spoon the peanut crunch over the kohlrabi and garnish with the scallion, coriander, and red chilli pepper.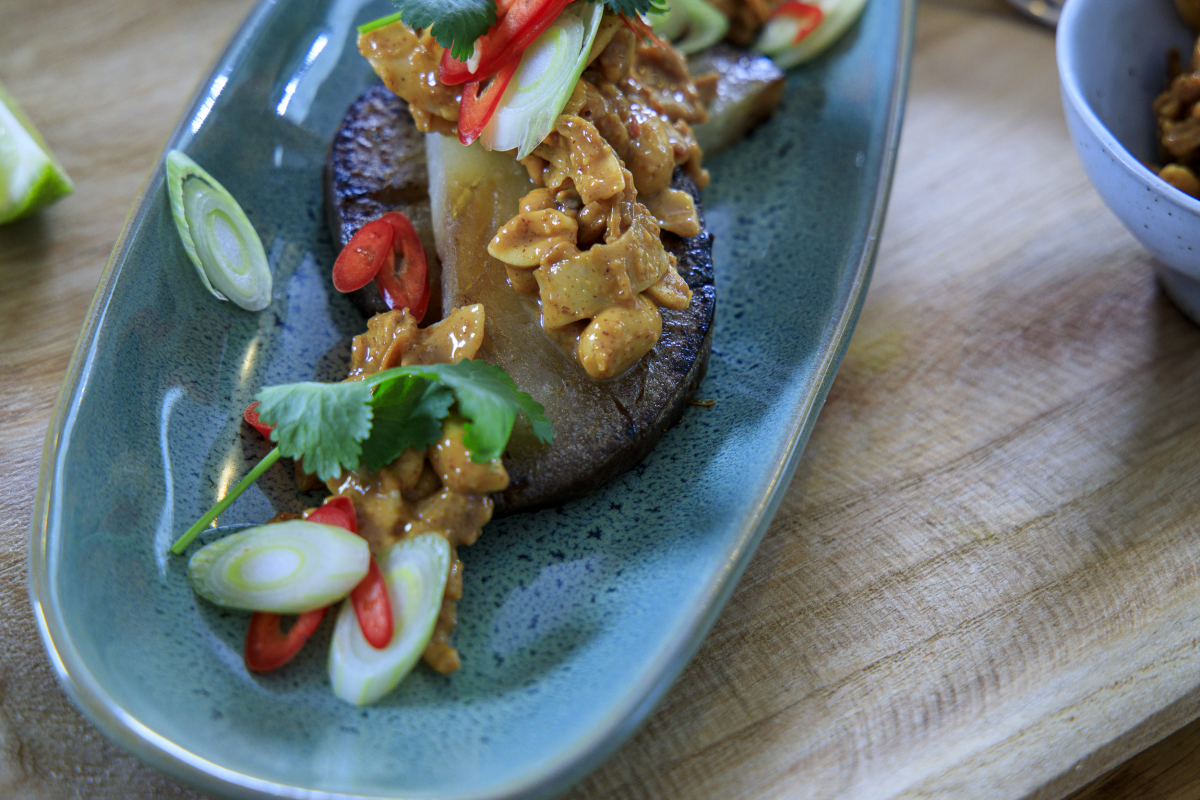 Related salads chosen by others
Asian style salad with carrots, mango, mint and peanut dressing
Average 3 of 5 stars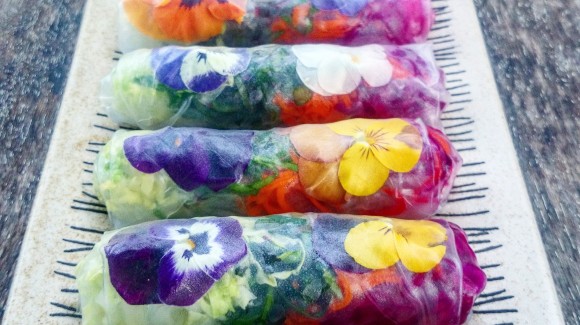 Rainbow rice paper rolls with red wombok kimchi
Average 3 of 5 stars
General Tso cucumber and oven steamed rice
Average 3 of 5 stars