Based on a classic American recipe, these iceberg wedges are served with crispy fried bacon and blue cheese. Originally, the recipe uses a blue cheese dressing, but this recipe is a lighter version with crumbles of blue cheese. And the addition of sweet syrupy balsamic vinegar and pancetta give it an Italian twist. Ideal for a BBQ or summer lunch. The wedges also look festive. Present them on a platter, such as in the photo, to impress your guests.
Preparation
Remove the outer leaves from the lettuce and cut the head into 4.
Cut the tomatoes in half and slice the radish.
Cook the pancetta in a pan until golden brown and crispy.
Serve the iceberg wedges with the cherry tomatoes, radish, chopped blue cheese, and crispy pancetta. Drizzle with olive oil, pepper and salt, and season with balsamic vinegar. Serve immediately.
Tips from the author
Not a fan of blue cheese? Then use soft goat cheese instead. Also delicious with a smattering of smoked almonds.
Related salads chosen by others
Crunchy cos and potato salad with honey vinaigrette
Average 3 of 5 stars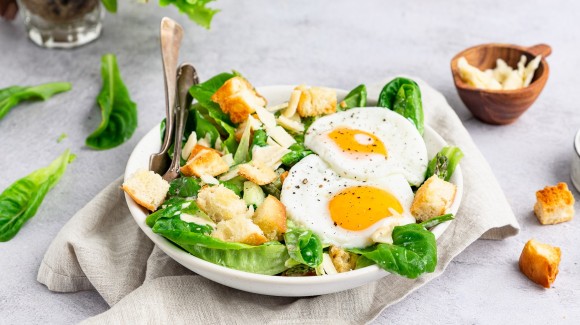 Caesar salad with a twist
Average 3 of 5 stars
Roast pumpkin, baby spinach, walnut and feta salad
Average 3 of 5 stars