When we think of popular food from Turkey, it's hard not to talk about kebabs and Turkish bread. The truth is that in Turkey salads are an inevitable part of the daily meal.
Try this recipe and see what you think. You will impress family and friends with this Mediterranean special dish. If you are not able to find striped eggplants (they are relatively new in Australia), just use the traditional ones.
Preparation
Cut the eggplants lengthwise into slices 1cm thick.
Brush both sides of the slices with olive oil. Heat the char-grill pan until very hot.
Grill the eggplant slices on each side for 3 minutes until golden and cooked. Keep warm.
Pour the yoghurt into a bowl and add the milk, mix well.
Chop the mint leaves and stir them together with the chopped garlic and a pinch of salt through the yoghurt.
Check for seasoning and add more salt if necessary.
Divide the eggplant between 4 plates and spoon a big scoop of yoghurt next to it.
Drizzle with a little olive oil and sprinkle the nigella seeds over the yoghurt.
Serve with freshly baked pita bread.
Tips from the author
A salad to serve as an entree or plate to share with 4 or more.
Related salads chosen by others
Balsamic lamb salad pumpkin baby spinach and pine nuts
129 People like this recipe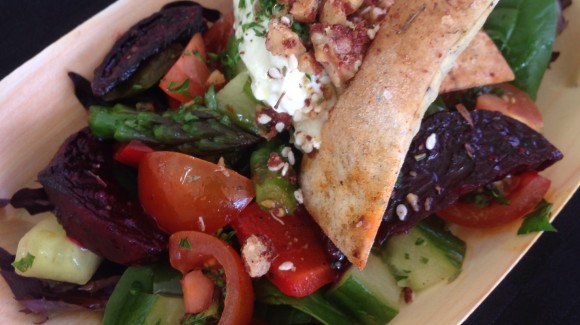 Fattoush salad with labna, walnut za'atar and buckwheat lavoush
51 People like this recipe
Avocado hummus
77 People like this recipe