Inspired by the Spainish cuisine, where these tasty "Greenback" tomatoes are the standard fare, this salad combines the crisp, sharp tomato flavour, with cucumbers, olives, basil and spring onions. It's easy to make and great to share with a some fresh crusty bread. (also to soak up the dressing)
Preparation
Halve the tomatoes and cut roughly into 2cm wedges.
Cut the cucumbers - half lengthways then half again then into 2cm bite-sized wedges.
Thinly slice the spring onion
Place the tomatoes and cucumbers on a long flat serving platter, top with olives and spring onion.
Finish with a layer of basil leaves - just tear them rather than cutting to avoid bruising, some sea salt and a generous amount of extra virgin olive oil.
Tips from the author
It is easy to adjust the portions to suit your occasion and appetite! This salad is a perfect starter or can form part of simple lunch with cheese, cold meats and fresh crusty bread.. and a glass of sparkling apple cider.
The "greenback" tomato is traditional in many Mediterranean countries. It is harvested just when the pink-star forms at the base of the tomato and sent to the markets. Normally eaten at the half to three quarter colour stage, with some green on the outside but red inside. You can also eat them fully ripe too - they just become a little milder - and some people like them almost green too. I recommend to try them when you get a chance.
Related salads chosen by others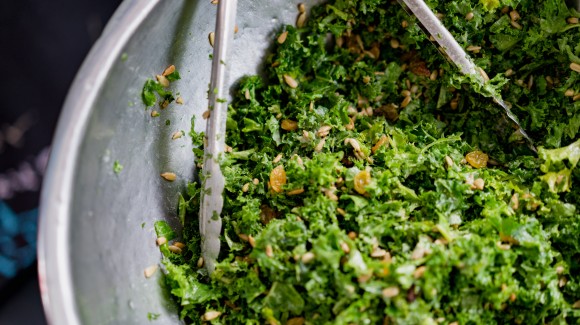 Coconut kale and sunflower seed salad
Average 3 of 5 stars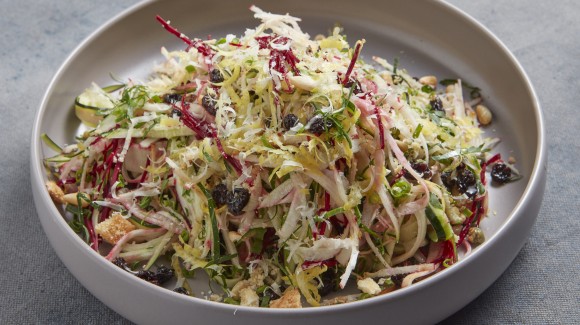 A refreshing homemade slaw with zucchini and beetroot
Average 3 of 5 stars
Quinoa and avocado salad
Average 3 of 5 stars