The name alone is enough to make you want to prepare this green dressing, which is based on cream and garden herbs. The sauce was first created in the 1920s at the Palace Hotel in San Francisco, as an ode to a famous actor who was performing in the successful play called The Green Goddess. Now, almost a century later, the green goddess dressing recipe is still delicious and it makes a great dip too.
Preparation
Bring a pan of water to the boil. Slice the green beans diagonally (into diamond shapes) of approx. 3 cm in length. When the water is boiling, add the beans. Add salt to taste and boil them for approx. 7 min. until just cooked.
Rinse them under the cold tap to cool, then place them into a shallow dish.
Remove the woody ends of the asparaguses and then grate them lengthways into long ribbons using a peeler or cheese slicer.
Cut the radishes into wedges. Roughly chop the lettuce. Add the asparagus, radishes and lettuce to the green beans.
Grate the green rind of the lime and then squeeze the lime to obtain the juice.
Using a hand blender, puree the flesh of the avocado with half of the lime juice, the grated rind, the olive oil, honey, mayonnaise, soy sauce and 2 tbsp of water to make a smooth dressing.
Season to taste with salt and pepper and extra lime juice. Drizzle the dressing over the salad and sprinkle the coriander and sesame seeds on top.
Tips from the author
Tip For a complete main course, serve the salad with a poached or soft-boiled egg.
Short on time? If the asparagus ribbons seem like too much work, you can also cut them diagonally into thin slices instead,or into 4 cm chunks. Boil them for 2 min. until just cooked.
Related salads chosen by others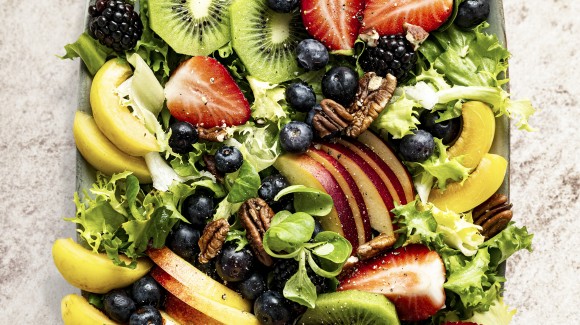 Marguerite's refreshing kiwi salsa
Average 3 of 5 stars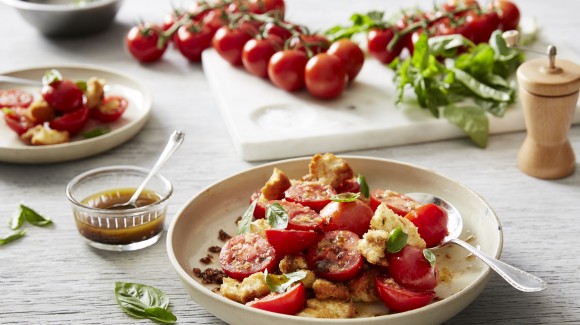 Cocktail Panzanella
Average 3 of 5 stars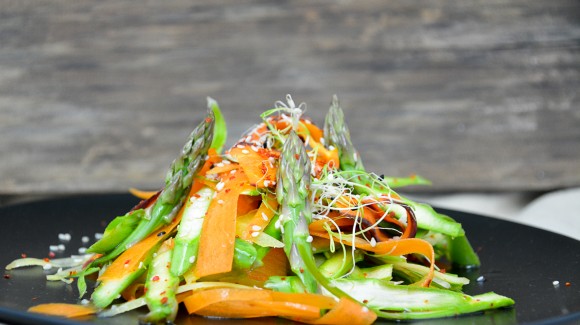 Raw carrot and asparagus salad
Average 3 of 5 stars